We ARE your Sports Leader & Source for College Sports …
Content by WKU ATHLETICS / Northwest Florida State College – SPORTS VIEW AMERICA …
Please check us out on TWITTER .. Check us out on INSTAGRAM …
LIKE & SHARE us on FACEBOOK …
Thousands of Sports Photos located at SVA PHOTOS …
BOWLING GREEN, Ky. – WKU Hilltopper Basketball head coach Rick Stansbury announced the signing of Fallou Diagne (6-10, Forward/Center) to the Class of 2022 in the early signing period.
Considered one of the top junior college players in the nation, Diagne will join the Hilltoppers after two seasons at Northwest Florida State College.
"We're excited to add Fallou to our team and program," said Stansbury on the signee. "He brings a lot of versatility. He's a big man that can really shoot it, but his best days lie ahead of him with added strength. He comes from one of the top junior college programs in America. He'll get better under Coach (Greg) Heiar this year."
In the 2020-21 season, the Dakar, Senegal native appeared in 20 games for the Raiders, starting in eight of them. He averaged 7.5 points and 2.9 rebounds in 14 minutes per game. He shot 43.3% from the floor, including shooting 35.7% from three-point range.
Diagne scored a season-high 19 points on two occasions: once again State College of Florida, going 7 of 15 from the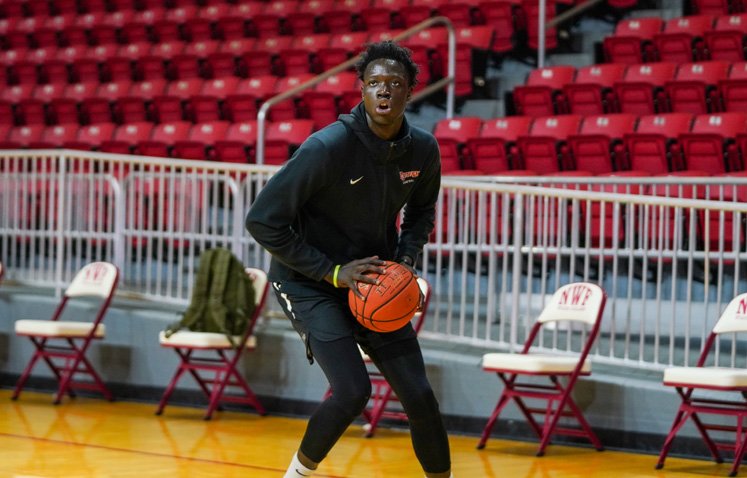 field, and again against Tallahassee where he shot 5 of 8 from the floor and netted a perfect 8 for 8 at the free throw line. He also logged eight rebounds against South Georgia Tech and blocked three shots against Chipola.
Diagne attended Compass Prep in Chandler, Ariz., for his senior year of high school. As a junior, he averaged 18.6 points 8.8 rebounds and 2.3 blocks for Tri-City Christian School. He also shot 60% from the floor in that same season.
In summer 2021, Diagne played in the coveted JA48 Camp, an invitation-only camp for the top returning junior college players in the nation.
How to follow the Hilltoppers: For complete information on WKU Hilltopper Basketball, follow the team's social media channels, @WKUBasketball on Twitter, @WKUBasketball on Instagram, and WKU Basketball on Facebook.