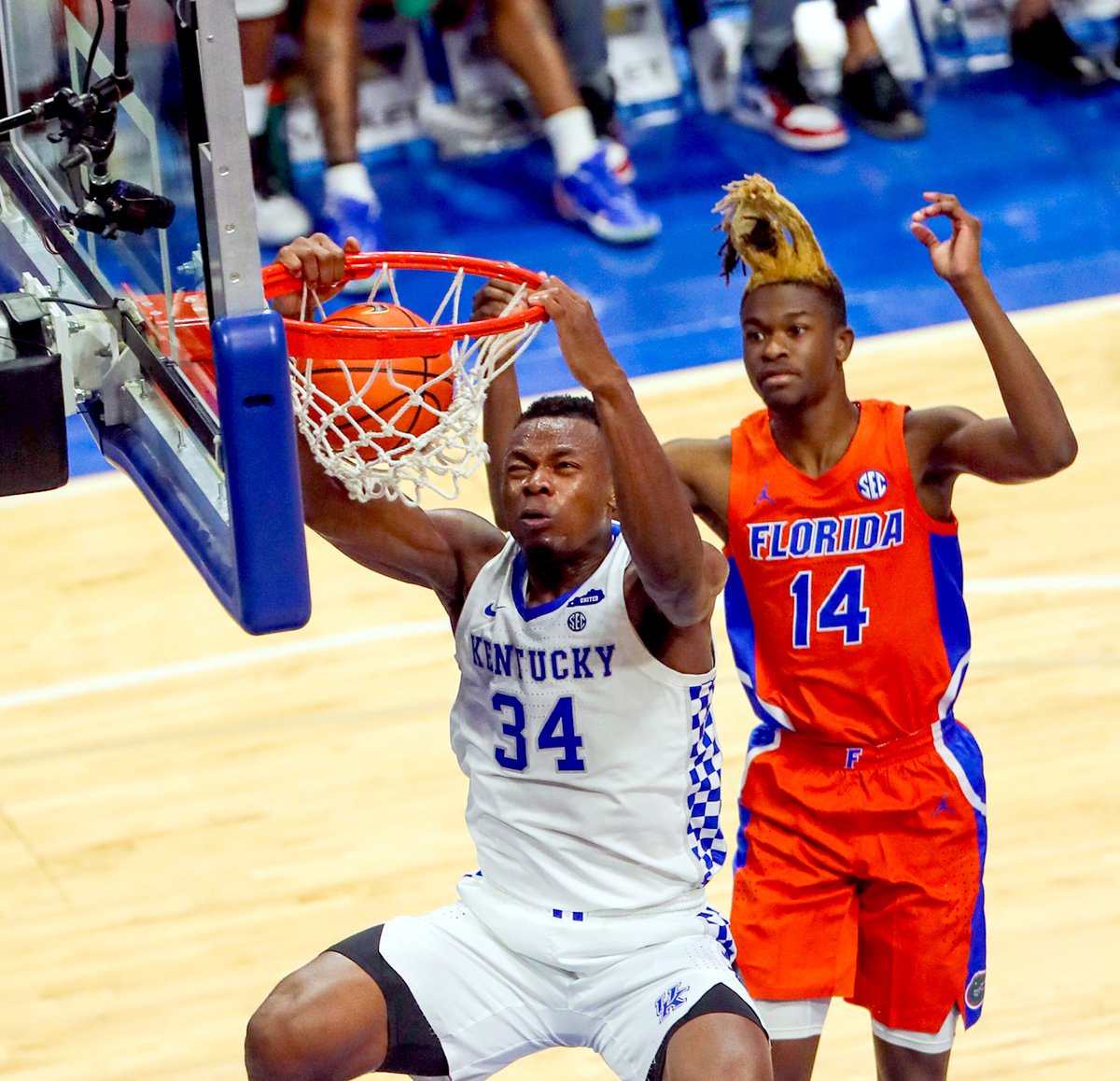 SPORTS VIEW AMERICA …
Your Officially Credentialed SUPER BOWL Coverage Team …
Content by RON HAMBLIN / Photo by MONT DAWSON – SPORTS VIEW AMERICA …
Please check us out on TWITTER .. Check us out on INSTAGRAM …
LIKE & SHARE us on FACEBOOK …
Thousands of Sports Photos located at SVA PHOTOS …
Lexington, KY 2-12-22
The Oscar Tshiebwe Show continues as UK Dismantles Florida 78-57
UK continued to build momentum towards the SEC & NCAA Tournaments with a convincing win over visiting Florida. Oscar Tshiebwe continued one of the best seasons by any player in recent years. Oscar scored 27 points, grabbed 19 rebounds and had 3 steals in a dominating performance Saturday afternoon. Kellan Grady dropped in 15 point hitting 4 three pointers.
Kentucky ran it's win streak to 6 games and 10 of 11 with the only loss in between being the loss at Auburn. UK travels to #19 Tennessee Tuesday and surely will give UK an idea of just how good they are. Tennessee has won 4 in a row and looks to be tuning up for the SEC Tournament as well.
Kentucky is trying to win back fans after an absolutely disastrous season that saw fans abandon UK after a lackluster season that saw the Cats win just 9 games. Notably the biggest thing that upset fans was the taking a knee by players and coaches. This went against everything true blue Wildcat fans believed in. Coach Cal seems to be re-energized and has this veteran bunch of Cats playing on the same page.
On a side note, Coach Cal put the Shaedon Sharpe rumors to bed letting everyone know Sharpe would not play this season. Most fans are skeptical about Sharpe playing for UK at any point this season or next. Sharpe's draft status could mean the difference in his going pro or coming back to play for the Cats next season. Fans believe Sharpe has the talent to play now, but the question fans are wondering out loud is, will Cal let him risk injury in order for the Cats to win? Cal has openly stated he will not play Sharpe just to gain wins.
UK Notes by UK Athletics
FLORIDA at KENTUCKY
RUPP ARENA at CENTRAL BANK CENTER | LEXINGTON, KY
FEB. 12, 2022
ATTENDANCE: 20,383 – season high
Final Score: No. 5/4 Kentucky 78, Florida 57
Team Records, Series Notes, Etc.
Kentucky is now 21-4 on the season and has won six in a row. UK is 10-2 in the Southeastern Conference.
Florida ended a four-game win streak and is 16-9 overall, 6-6 in the SEC.
UK leads the series, 106-41, and the teams have another meeting March 5 in Gainesville.

UK leads 54-11 in games played in Lexington.

Next for UK: the Wildcats are at Tennessee on Tuesday for the 9 p.m. game on ESPN.
Team Notes
Kentucky has won 16 in a row in Rupp Arena, including 15-0 this season.
Kentucky limited Florida to 57 points. UK is 201-9 (95.7%) under Calipari when keeping the opponent to 63 points or less, including 13-0 this season.
Kentucky tied a season low for turnovers with only five miscues. UK turned a 10-5 difference in turnovers into a 17-4 advantage in points off turnovers.
Kentucky dominated the rebounding 41-25, collecting 18 offensive boards that led to a 20-7 gap in second-chance points.

The +16 margin ties the largest margin this season against an SEC opponent.

Kentucky's largest lead was the final margin. UK is 306-13 (95.9%) under Calipari when leading by at least 10 points at any time in the contest.
Player Notes
Oscar Tshiebwe totaled 27 points and 19 rebounds.

It is his seventh-straight double-double, first Wildcat to do that since Julius Randle in 2013.
It is his 19th double-double of the season, ranking second in the nation in that category.
It is his team-leading eighth 20-point game of the season and fifth game with at least 20 points and 15 rebounds.

He's the first UK player to achieve the feat since Kenny Walker had five such games in 1984-85.
According to the SEC Network, Tshiebwe is the only SEC player to have five 20-point, 15-rebound games in the last 25 years.

The nation's leading rebounder has grabbed double-figure boards in all but two games this season.
He has 12 straight games with double-figure rebounds, first Wildcat to do so since Dan Issel had 12 in a row in the 1969-70 season.

Issel and Tshiebwe now have the longest streaks in program history dating back to the 1967-68 season with complete game-by-game rebounding records
It is the longest streak of any SEC player since at least 1996-97

He added two assists and three steals. He has had at least two steals in nine straight games.

Kellan Grady tallied 15 points, primarily on the strength of four 3-pointers.

Over the last 16 games he is averaging 13.8 points per game while shooting 5 percent (55 of 121) from 3-point range.
Has made a 3-pointer in 18 straight games, most since Jamal Murray made a 3 in all 36 games of the 2015-16 season.
Grady has made at least two 3-pointers in seven straight games.
Playing 39 minutes today, he has led the team in minutes played in the last eight games.

TyTy Washington Jr. assembled 10 points, five rebounds and six assists.

He has averaged 14.2 points in the 20 wins in which he has played this season, vs. 6.0 points per game in UK's four losses.
He left the game in the second half with a lower-left leg injury and did not return.

Making three 3-pointers, Davion Mintz notched 11 points.

Over the last four games, he has averaged 12.3 points and made 11 of 22 from long range.

Sahvir Wheeler, the SEC leader in assists, had six tonight while adding nine points.

He has had 18 games this season with at least six assists.
After going 0-for-17 from the field in the previous three games, he rattled home a 3-pointer on his first try today and made 4 of 7 shots for the game.

Lance Ware continued to provide quality production off the bench. He had four points and a season-high seven rebounds in 14 minutes today.
Coach John Calipari
Calipari is now 360-97 at UK.

UK is 294-56 against unranked competition under Calipari.

Calipari has an 805-237 all-time on-court record.

He moved into tie for 13th place on the all-time on-courts win list matching Rick Byrd's total

Calipari has tallied a 377-118 all-time record within conference play as a head coach and owns a 169-52 record since joining the SEC.
Calipari is 21-9 against Florida.
In the First Half
The starting lineup was Sahvir Wheeler, TyTy Washington Jr., Kellan Grady, Keion Brooks Jr. and Oscar Tshiebwe for the 21st time this season. That lineup now has a 17-4 record.
Davion Mintz was the first Kentucky substitution at the 13:32 mark, fifth time this season that he has been first off of the bench.
Ahead 8-6, UK went on a 12-0 run for a 20-6 lead, coaxing Florida's second timeout at 14:25.
However, UK went on an eight-minute cold spell and Florida's 15-2 spurt cut it to 22-21 at 6:43.
UK steadied with an eight-point string, highlighted by two layups and a dunk by Tshiebwe, to make it 30-24.
With Tshiebwe totaling 13 points and nine rebounds, UK went to halftime ahead 33-28.
Key stats of the first half:

UK made 8 of its first 10 shots of the half but only six of the last 24.
UK had only three turnovers and led points off turnovers 9-0.

UK is 20-2 this season when leading at intermission.
In the Second Half
Kentucky began the second half with the starting lineup.
With Washington getting eight points and an assist, Kentucky opened with a 13-2 run in the first 3:36, giving the Wildcats their largest lead at 46-30.
However, as they did in the first half, the Gators quickly rallied with a 12-4 run, pulling within 50-42, and UK called timeout at 13:21.
And again, as it happened in the first half, Kentucky steadied with six straight points by Tshiebwe to re-establish the double-digit advantage.
With Florida hovering within 65-55 with 4:47 left, UK put the game away with a 7-0 run.
Tshiebwe again played a dominant half with 14 points and 10 rebounds in the final stanza.