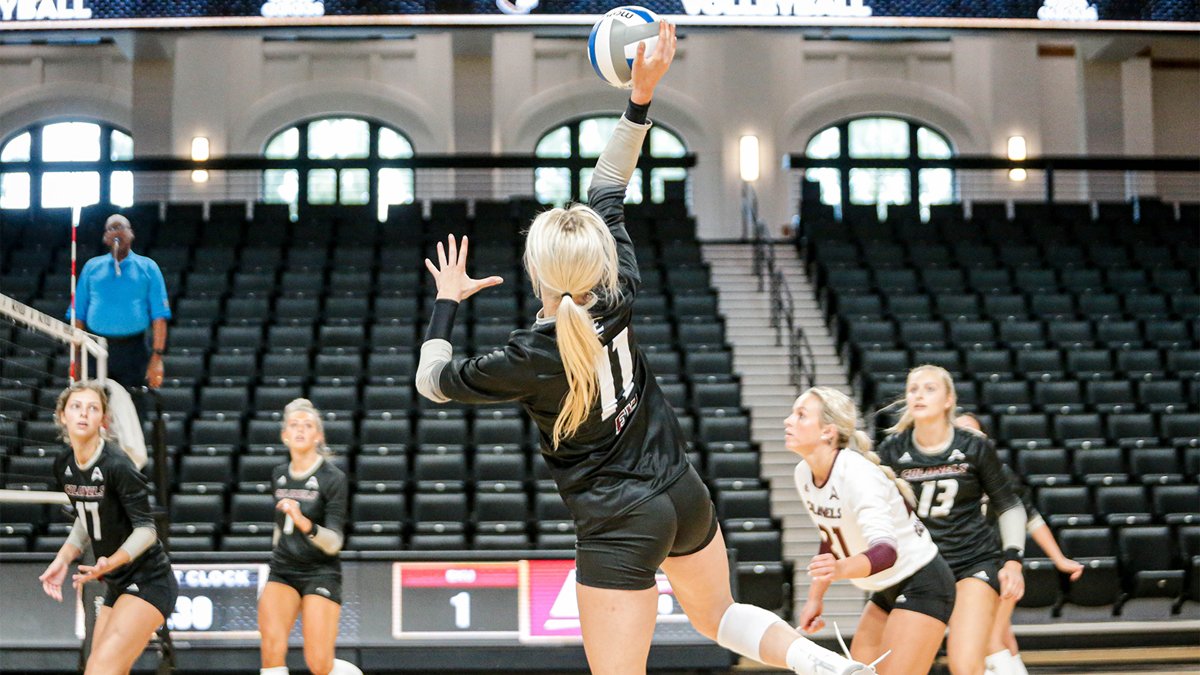 SPORTS VIEW AMERICA – Your Top Sports Team …
Content by EKU ATHLETICS – SPORTS VIEW AMERICA …
Please check us out on TWITTER, INSTAGRAM, & FACEBOOK …
Thousands of Sports Photos located at SVA PHOTOS …
MOBILE, Ala. – Eastern Kentucky University's volleyball team ended the Jaguar Invitational presented by Holiday Inn Express, with a 3-0 loss to host University of South Alabama on Saturday.
The Jaguars won by scores of 25-17, 25-15 and 25-19.
After Molly Michalak tied the first set at 12-12 with a kill, South Alabama built a four-point cushion with a 6-2 run. Blocks by Niki Capizzi and Kailey Keeble made it 18-14. Back-to-back kills by Hannah Maddux pushed USA out in front 22-15. Maddux's kill finished off the first set, 25-17, and staked the home team to a 1-0 lead.
Katie McKune tied the second set 3-3 with a kill for the Colonels (8-5), however the Jaguars took control with another big run. A kill from Lillie Simons and an EKU error capped a run of six unanswered to make it 9-3 in favor of South Alabama. A solo block by Carissa Bradford gave the Jags a 14-5 edge. Morgan Stalcup finished off the set with a kill.
In the third set, Anna Purichia tied it 3-3 with a kill and Eastern Kentucky stayed within one, 6-5, on a kill by Maddy Campbell. From there, USA went on an 8-3 run to build a six-point lead. Keeple's kill capped it and made the score 14-8. Another kill from Purichia got the Colonels within three 15-12, and Sarah Mitchell made it a two-point margin, 16-14, with a kill. EKU never got closer than two the rest of the way.
Michalak had a team-best nine kills and made only two errors in 30 attacks. She also had a team-high 14 digs. The junior outside hitter was chosen to the Jaguar Invitational All-Tournament Team. Chloe Mason posted 17 assists. Maddux led all players with 18 kills for South Alabama.
Eastern Kentucky will open ASUN Conference play at home on Friday against Lipscomb. The match is scheduled to begin at 6 p.m.