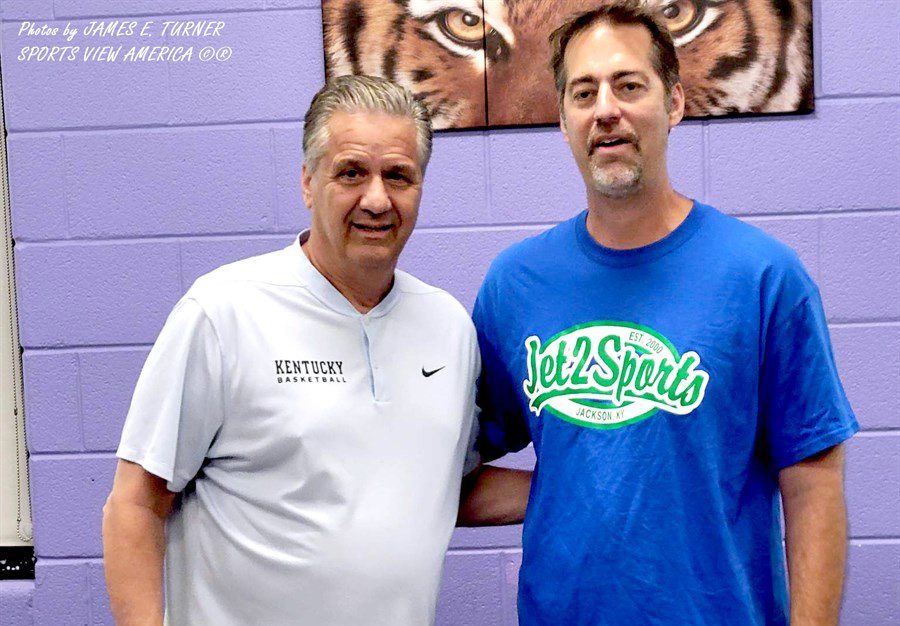 SPORTS VIEW AMERICA – We Are Your Top Sports Source …
Content by – JAMES E. TURNER – SPORTS VIEW AMERICA …
Please check us out on TWITTER, INSTAGRAM, & FACEBOOK …
Thousands of Sports Photos located at SVA PHOTOS …
For the first time ever, the John Calipari UK Basketball camp made a stop in Breathitt Co. at Jackson City on Tuesday, June 6th. The UK Wildcats rolled into Jackson , with a police escort, in four blue vans at 2:45 the afternoon of the camp. The JB Goff Gymnasium on the campus of Jackson City High School was near capacity as 86 campers hit the floor for instructions by Coach John Calipari, his coaching staff and his Wildcats. The campers received three hours of basketball instruction. Coach John Calipari also brought his assistant coaches Bruiser Flynt, John Welsh and Riley Welsh. UK Director of basketball operations Will Barton was in attendance along with the UK director of communications Deb Moore. Wildcat basketball players that were providing the one -on -on basketball instruction was : 2023 Mr. Basketball & McDonalds All-American Reed Shepherd, McDonalds All- American Justin Edwards, Allen Iverson All-American Rob Dillingham, Adou Thiero, Grant Darbyshire, Brennan Canada, Walker Horn, Kareem Watkins and Ugonna Onyenso. The Coach Cal camp at Jackson City was the third largest camp of the summer for the UK Wildcats.
Event coordinator James Elliott Turner would like to thank each and every one that made the Coach John Calipari's UK Basketball Camp at Jackson City a huge success. Turner would like to thank the following: Sports View America, Coach Wayne Morris, Superintendent Wayne Sizemore, Athletic Director JR Thompson, Principal Missy Roark, Patsy Clair (Breathitt Co Hunger Alliance), WJSN 97.3, Lance Turner, Kim Clair Spencer, Tim Spencer,, Sanders Turner (Turner Sports Group), John Lowe (WYMT), Jackson City School Board Member Kena Mullins, Jackson City Police Chief Brian Haddix, Safety Officer Larry Noble, Constable Ronnie Begley, Sheriffs Deputy Drewey Jones, WD-606 Sports, Variety Pizza, KFC. Showtime Pizza & Pastor John Bunn. I want to thank each and every player, parent, grandparent, guardians and Coach John Calipari, Will Barton and the Kentucky Wildcats.
" We want to thank James Elliott Turner and Jackson City for making our team feel so welcome with the unbelievable hospitality," said Director of UK Basketball Operations Will Barton,. This was the first time the UK basketball team ever got a police, constable and sheriff escort to the Jackson City JB Goff Gymnasium in the past twenty years of having the UK satellite basketball camps. This was also the first time the UK basketball team has ever been fed after the camp (Thank you Patsy Clair, Showtime Pizza. KFC& Variety Pizza). And this was also the first time the UK Basketball team got escorted back to the county line to go back to Lexington at the conclusion of the UK Camp. Turner stated," just seeing the kids and the adults so excited was such a blessing." Turner added the UK basketball camp was high for Breathitt Co. and surrounding areas. This was truly a total team effort! Its all worth it to see the smiles on our kids face today.
Thank you so much! God Bless