WE ARE your Sports Leader & Source for Auto Racing …
Content by JAMIE HUGHES / Photos by Hamblin Sports Photography – SPORTS VIEW AMERICA …
Please check us out on TWITTER …
Check us out on INSTAGRAM …
LIKE & SHARE us on FACEBOOK …
Thousands of Sports Photos located at SVA PHOTOS …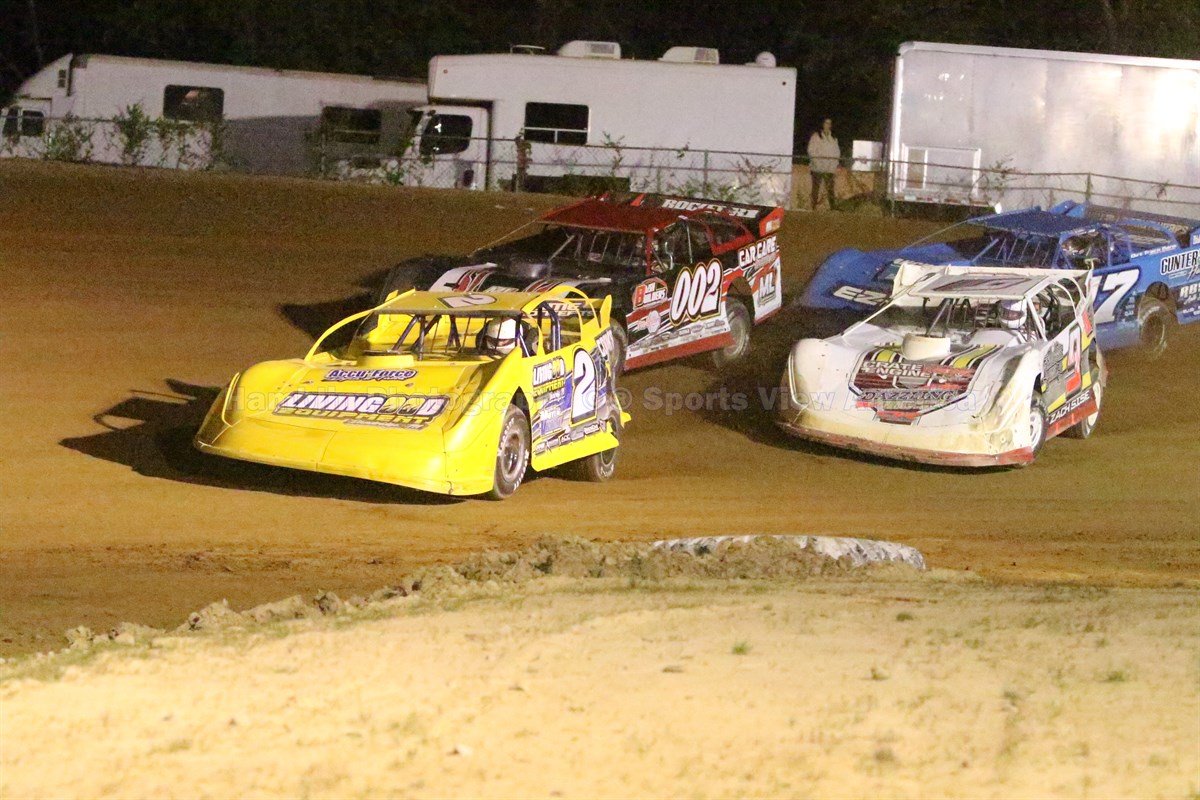 Pineville, West Virginia's Michael Bland captured the 2021 Kentucky Burner at Mountain Motorsports Park in Isom, Ky this past Saturday. Bland set the fast time of the night, which was sponsored by Action Auto, in his #2 Cook's Excavating, Livingood Equipment, Aftermarket Specialties sponsored Ford Mustang. He then won an impressive fast dash earning himself a pole position in the night's feature race. Bland turn heads all across the dirt track world not only by leading all 50 laps of the American Allstars $5000 to win Late Model race, but also by how he done so. Bland became the fourth different feature winner of the season by lapping all but four of the other competitors in the feature race. Several cautions stacked throughout the race would provide his competition with opportunities to get around him, but the race winner would hold off the challenges each time. That and his ability to work his way through lap traffic earned him a spot in the Pro-1 Gutter's Victory Lane in front of the season's largest crowd of the year. Mt Airy, North Carolina Benji Hicks came from 10th place to front of the pack where he would finished second. Tyler Arrington, a previous series champion and multi-time winner at MMP this season, finished third in front of Martin, Ky veteran driver Shannon Thornsberry who came from as 18th starting spot to finish fourth. Another Eastern Ky native, Kenny Howell had a great run in his #21 machine as he finished fifth. Knoxville, Tennessee's Trevor Sise kept his series championship hope alive with a sixth place finish. Speaking of the points, the series leader, Logan Roberson finished seventh. Mountain Motorsports Late Model points leader Oscar McCown came home eight, while last year's winner Zach Sise was 9th and rookie-of-the-year contender Jordan Hedger finished in 10th place in the 24 car feature race. This was the first of three schedule stops for the American All-Star Series at the historic race park, with July and October stops still awaiting the series.
Fleming Neon, Ky's Justin King captured the Limited Late Model feature as he made a late race pass on then leader Jackie Fields. King would have to use momentum on both stretches of the race track to hold off the Eastern Ky Hall of Fame driver, Fields who finished second. #4 Brad Sturgill has a nice run, as he finished third in front of the G5 machine of Garrett McCloud. Cody Bentley and Zach Lucas round out the top 6.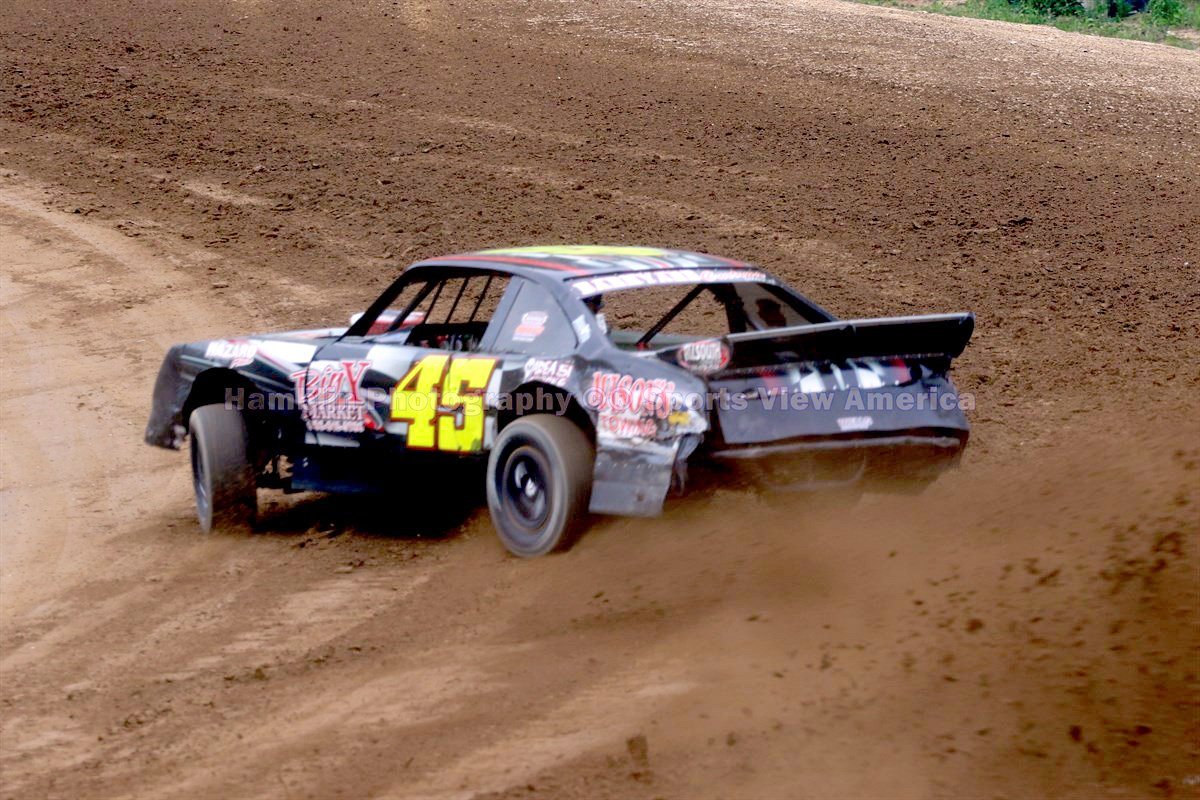 Racin Tim Mason and his son, Nick Mason has a big night in the bombers as they finished one-two in the Four Star Village Catering bombers. Tyler Griffith finished third in his #18 car and still one of the few cars to finish inside the top 5 in every race he's race this season. Tyler's teammate, Eddie Griffith finished fourth and Danny Fields would round out the top 5. All five of the competitors gained big points on the Cowboy Daniel Stamper who did not get to race in the double points feature due to mechanical troubles. Mason's feature win earned his an extra $100 as the feature was sponsored by M&M Septic and Rocky Moore.
To say, "it just runs in their blood," is an easy case to prove in the Four Square Produce Open Wheel Modified as all three of the top 3 drivers are second generation drivers. Brandon Hutchison stretched out his points lead in his #a85 Stealth Chassis as he once again set fast time, won his heat and lead every lap of his feature. Andy Mason, last year's track champion, once again had another strong finish as he finished second in front of third place finisher, Hunter Feltner. Mike Pratt had one of his best finishes of the season with a fourth place outing and Tracy Lucas picked up a top-5 finish with his #55 car.
The East Ky's Gravel four cylinder features were won by two familiar names, as Aaron Baker and Colby Bush won both of them. Busch held off a hard charge from last week's winner Larry Jarrel and Corey Ford who finished second and third. The M2 of Baker's challenge would come from Shawn Stamper who finished second in their feature, William Hurt finished third in that second feature.
Tony Sizemore continued to roll in the Shelby's of Vicco Sport Mods. The current Points leader captured the Wright's Recycling checkered flag in his #03 machine. Letcher County's Josh Sexton finished second in his #13 car, while Oscar Marshall, Shane Yates, and Brent Slone round out the top 5 in the 14 car feature. Expect this classes car count to grow even more as we run the make-up feature for them Friday night and then host their 2021 Sport Mod Mania paying $900 to win!
The Young Guns of the Mountains race was won by Brayden Campbell who drove the B7 car to the winner's circle. Dagan Joseph finished second, while Dylan Rollings would finish one spot ahead of fourth place Courtney Slone and Gage Turner who finished fifth.
For more information about last weekend's race action and for a preview of this upcoming Friday night's action tune into Jamie Hughes on Facebook Live as he brings you Hometown Sports Corner each Thursday night at 930 PM.