WE ARE your Sports Leader & Source for Horse Racing …
Content by LISA LAKE – ROEDEMEIER – SPORTS VIEW AMERICA …
Please check us out on TWITTER …
Check us out on INSTAGRAM …
LIKE & SHARE us on FACEBOOK …
Thousands of Sports Photos located at SVA PHOTOS …
Six Grade 1 races in a row is utopia for horse racing fans. But Saturday's Travers card exceeded even our wildest expectations. Beginning with the return of "Queen Gamine" and ending with Essential Quality reigning superior in the Travers, there was literally never a dull moment.
Gamine got the party started by taking the $500,000 Ballerina, handily defeating her foes at her preferred seven-furlong distance. She's now 4-4 at seven furlongs and 2-2 over the Saratoga dirt. The Queen has ten lifetime starts and nine victories. Fun fact: With this win, her earnings now exceed her enormous purchase price of $1,800,000. The Ballerina is a "win and you're in" for Breeders' Cup, so expect the superstar sprinter to show up in Del Mar later this year for trainer Bob Baffert.
Next up, the $600,000 Forego gave us what may be the most talked about stretch run in years. As Firenze Fire and Yaupon battled neck and neck to the wire, Firenze Fire reached over and began to bite Yaupon repeatedly. Most believe that cost Firenze Fire the race as he lost his focus and momentum with the attack on his rival. Yaupon, the ultimate professional, never flinched or wavered as he continued down the rail and gave trainer Steve Asmussen and jockey Ricardo Santana the victory. Santana said he had no idea how his horse was going to react, and was thankful it did not cause a collision or cost him the race.
Jackie's Warrior and Life is Good gave us the next thrilling stretch run in the seven- furlong $500,000 Allen Jerkens Memorial. Life is Good broke on top, as usual, and looked like he was going to live up to his 4-5 post time favoritism, when Jackie's Warrior and Joel Rosario came charging down the stretch and passed him at the wire! Be still, my heart!
Jackie's Warrior is named for a brain cancer survivor and the sister of one of his breeders. The horse has definitely lived up to his name, with seven wins from ten starts. That victory gave trainer Steve Asmussen back-to-back Grade 1 victories at Saratoga on Travers Day. Very impressive.
Finally, we must pay homage to Essential Quality, the three-year-old champion and winner of the 2021 $1,250,000 RunHappy Travers. He clocked Midnight Bourbon all the way to the wire and then, in typical fashion, rolled right by the Steve Asmussen trainee and son of Tiznow. Essential Quality is known for his narrow margin victories, doing just enough to win eight of his nine lifetime races. If all goes well, he should be a major player in the Breeders' Cup this year.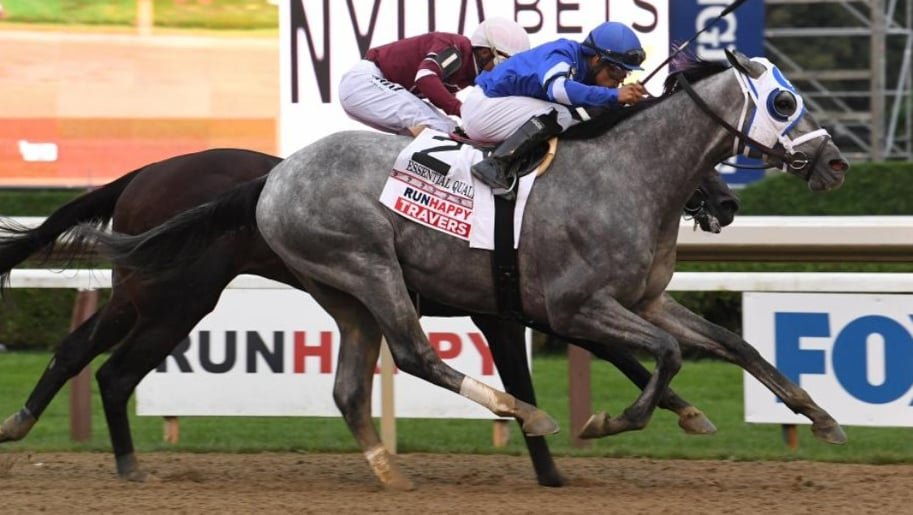 On a personal note, my three-year-old grandson loves horseracing. He has learned how to place a wager on my mobile account and cheers "Get up, horsey! Get up!" when his horse comes down the stretch. On Saturday, he placed a wager in five of the 13 races, and won four. His other selection, Bonny South, came in second at 33-1. He makes his selections without assistance by looking at the horses on TV. He picked Essential Quality without hesitation, so he's definitely an admirer of good horse flesh! Unfortunately, that's the only Grade 1 race he saw as he was napping for the other five!!
On to Kentucky Downs…in my hometown!!