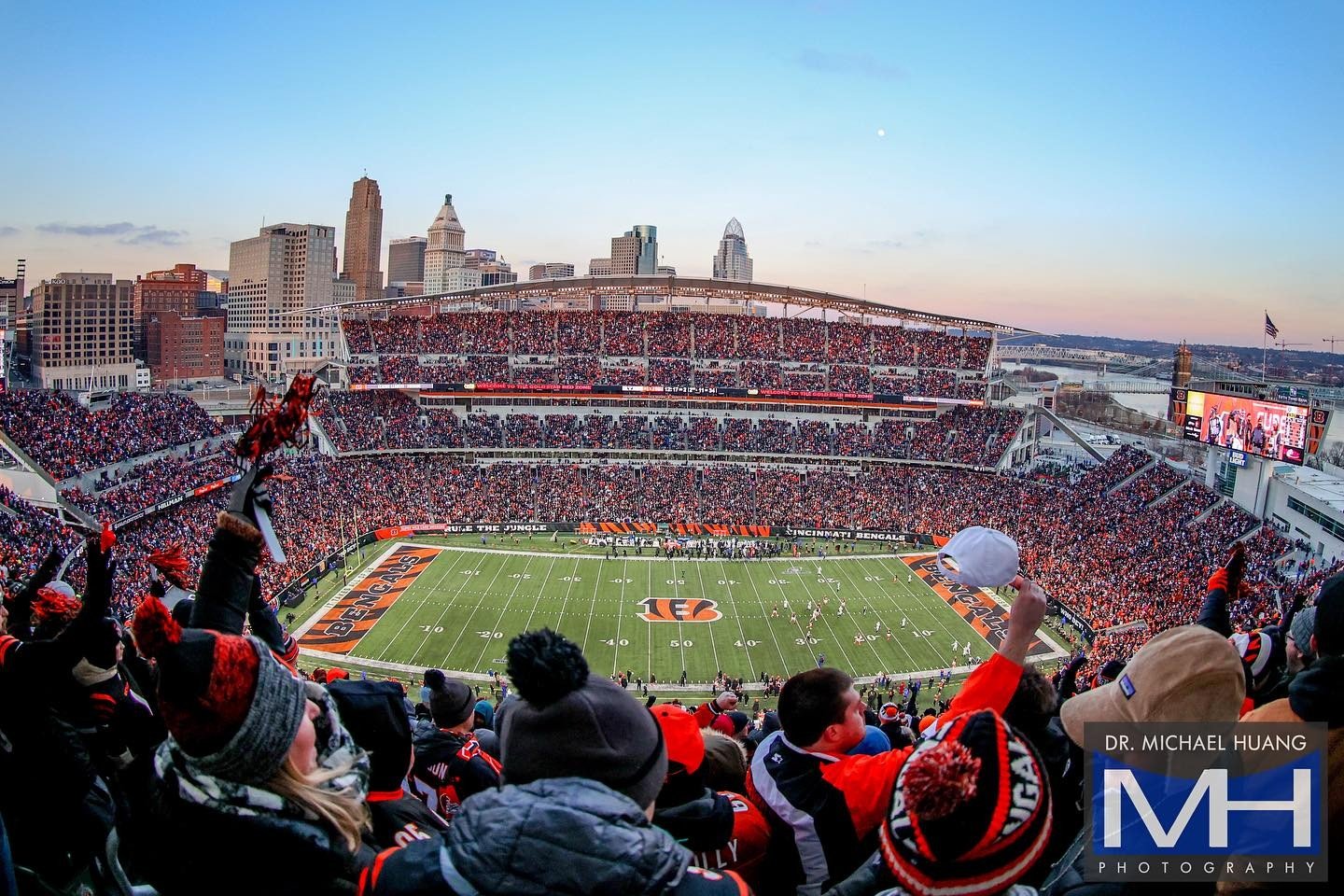 A franchise record-setting crowd (many inebriated) at Paul Brown Stadium celebrates the first postseason win in thirty-one years. Photo credit Dr. Michael Huang.
(CINCINNATI, Oh.) – Three decades is a long time. That's how long it's been since the Bengals won a playoff game. A thrilling 26 – 19 win over the Las Vegas Raiders finally broke the spell and sent delirious Cincinnati fans spilling out onto the Queen City streets in joyous celebration.
For those of you old enough to remember, the last time the Bengals tasted playoff victory was in the 1990 season when they were still playing in Riverfront Stadium. Ever since that 41 – 14 win over the Houston Oilers, the franchise has been mired in mediocrity. They weren't horrible by most standards. They just couldn't win any games in the postseason. The team actually made the playoffs seven times during that stretch but lost in the first round each and every time.
The streak, the curse, the drought—whatever you want to call it—the pall that has enveloped the city since George H.W. Bush was president has officially been lifted.
"I'm happy for the city," said head coach Zac Taylor. "I think the city can finally exhale. I get that. We haven't felt that pressure, I'll be quite honest—me maybe more so than the players, because I'm out more in the offseason and talk to people who have been here a long time. But I don't think the players ever felt that. I'm just really, really happy for the city of Cincinnati, and hope they get a chance to enjoy this. And now, we'll just exhale and enjoy the ride, because we're not done yet."
To be fair, only four players on this year's roster were even born before 1990. They shouldn't be saddled with the baggage of Kimo Von Oelhoffen ripping out Carson Palmer's knee in 2005. You can't blame them for thinking of Boomer Esiason as just a really good TV analyst. I'll bet a few of them have no idea that Chad Johnson and Ocho Cinco share the same bed.
But the good people of Cincinnati surely know better. That's why this victory felt extra special for every single graybeard who chuckles at the mere mention of a "Turkey Drop." It signals the beginning of a brand-new era. It's an exorcism of sorts. Out with the ghosts of Andy Dalton and Marvin Lewis. In with the likes of Zac Taylor, Joey Franchise, and the new kids on the block. After all, you can bet your bottom dollar that no one keeps these Bengals winless for the next thirty-one years in a row.
This one wasn't easy. The Bengals scored the first five times they had the ball. However, three of those possessions ended up with Evan McPherson field goals rather than Cincinnati touchdowns. You leave multiple points on the field like that, you're usually going to get burned.
With Cincinnati up 20 – 13 at the half, the teams traded two more field goals apiece before setting up the dramatic Raider last-possession drive that threatened to break everyone's hearts. With the record-setting 66,277 on hand at Paul Brown Stadium at a full-throated roar, Germaine Pratt intercepted Derek Carr's fourth-and-goal pass from the nine-yard line—effectively ending any hopes for a frenetic Raider comeback.
And just like that, the streak was over—a collective sigh of relief from a legion of Bengal die-hards too stunned to properly react. Thirty-one years of postseason futility can indeed be suffocating. For sports fans everywhere, losses like that can slowly steal your soul. It's liberating to know you can finally come through in the clutch and win.
Joe Burrow knows how to win. It doesn't seem fair for a second-year player to be so poised on the big NFL stage. The guy's the epitome of grace under pressure. Unflappable as usual, Burrow was solid as a rock in his first playoff appearance.
The Heisman winner from LSU and the No. 1 pick in the 2020 NFL Draft completed 24 of 34 passes for 244 yards and two touchdowns against a formidable Raider defense. The vaunted Las Vegas pass rush never materialized as Burrow rolled out, stepped up in the pocket, and scrambled his way into the collective hearts of everyone wearing orange.
"It's exciting," a bespectacled Burrow said afterwards. "It's exciting for the city and the state, but we're not going to be looking forward to who we're going to play next week—we'll be ready to go out and execute the game plan."
Remember, this was the same Joe Burrow who—earlier last month—implied there just wasn't a whole lot of excitement happening in his newfound home. Well, he's certainly generated plenty of excitement among the fans since his arrival. After all he's already accomplished, build him his own Disneyland on top of Mt. Adams if that's what he wants.
"I told this to the players," Coach Taylor relayed to the media in his postgame presser. "Some of them may not understand the significance of this win that happened today, but I know a lot of you in the room who are homegrown Cincinnatians certainly do."
As soon as he said that, I saw a lot of heads nod. I even noticed a tear or two.
For all you die-hard, longsuffering Bengals' fans reading this, the old has gone, the new has come. Enjoy. Relax. Exhale.
Dr. John Huang covers professional sports for Sports View America. His latest book, KENTUCKY PASSION is available in bookstores and online at https://www.amazon.com/Kentucky-Passion-Wildcat-Wisdom-Inspiration/dp/1684351669 . If you enjoy his writing, you can follow him on Twitter @KYHuangs.