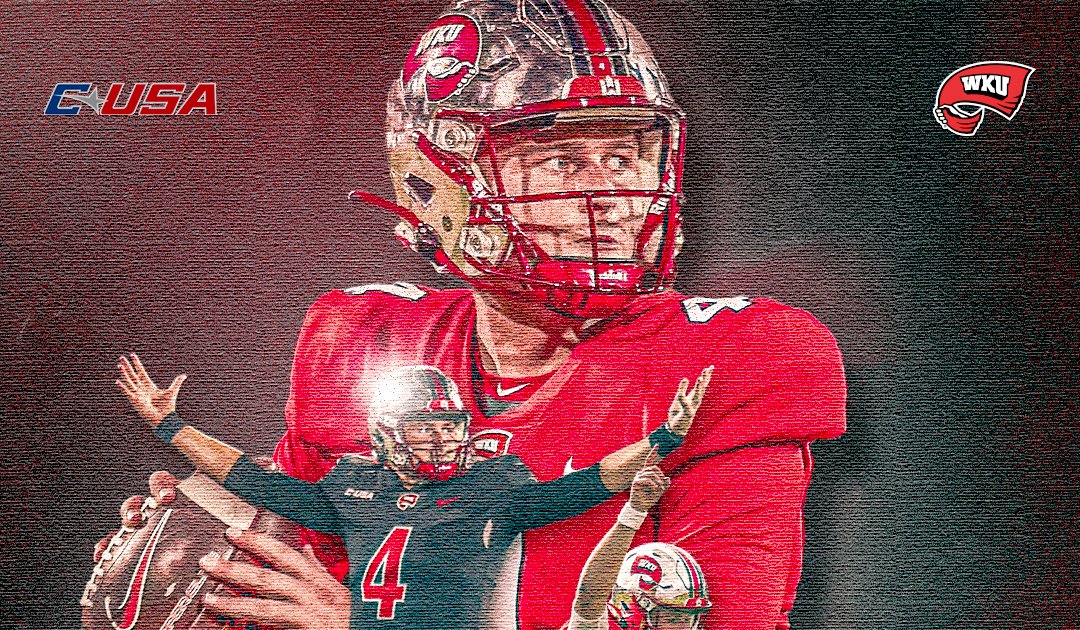 SPORTS VIEW AMERICA – Your Top Sports Team …
Content by WKU ATHLETICS – SPORTS VIEW AMERICA …
Please check us out on TWITTER, INSTAGRAM, & FACEBOOK …
Thousands of Sports Photos located at SVA PHOTOS …
BOWLING GREEN, Ky. – WKU Football alumnus Bailey Zappe has been awarded Conference USA's Michael L. Slive Male Athlete of the Year for the 2021-22 athletic season, the league announced Thursday.

The Michael L. Slive Athlete of the Year award is the highest individual honor awarded by Conference USA. The award is named after C-USA's founding commissioner, Mike Slive, and is determined by a vote from the conference's athletic directors.

Zappe becomes the fifth Hilltopper to win the award and first since WKU Baseball's Jake Sanford took home Male Athlete of the Year honors in 2018-19. WKU Volleyball's Alyssa Cavanaugh was honored in 2017-18, and fellow WKU quarterback Brandon Doughty was awarded for his efforts after the 2015-16 campaign. Miranda Krammer of WKU Softball was the first student-athlete on The Hill to earn C-USA's highest recognition in 2014-15. Since joining C-USA in July of 2014, WKU's five Student-Athlete of the Year winners are the most in the league (Rice, 3; Marshall, 2; MTSU, 2; UTEP, 2; FAU, 1; North Texas, 1; Southern Miss, 1).

"Congratulations to Bailey Zappe on receiving Conference USA's most prestigious individual award," said WKU Director of Athletics Todd Stewart. "While his record-breaking season was historic, it was even more special because it helped WKU to a conference title and resounding Boca Raton Bowl victory. In the process, he and his teammates elevated our football program and brought national recognition to Western Kentucky University. This is a fitting honor for his unprecedented final collegiate season."

Zappe's first and only season on The Hill was one for the record books as the Texas native threw for 5,967 yards and 62 touchdowns which both shattered single-season WKU and NCAA records. Zappe's numbers for yards and touchdowns were also 1,095 and 15 ahead of the next-closest passer, which was Heisman Trophy winner Bryce Young from Alabama. At season's end, Zappe was named Conference USA Football MVP for his efforts and took home the Earl Campbell Tyler Rose Award which recognizes college football's most outstanding player from the state of Texas.

After accepting invitations to both the Reese's Senior Bowl and NFL Scouting Combine, Zappe's historic season at WKU was capped by being selected by the New England Patriots in the fourth round of the 2022 NFL Draft. Zappe became the highest-drafted quarterback in WKU history and the third Hilltopper quarterback drafted in the last seven years. He is the 37th draft pick from WKU.

Zappe's achievements at WKU were not just on an individual level as he led the Tops to a great deal of team success. Behind Zappe's leadership, WKU closed the 2021 regular season on a seven-game winning streak to secure C-USA's East Division Championship and subsequent appearance in the C-USA Championship Game. Zappe and the Hilltoppers also earned a Boca Raton Bowl Championship by defeating Appalachian State, 59-38, to finish off a record year.

Conference USA's release on the 2021-22 Michael L. Slive Athlete of the Year Awards can be read here.

For all the latest on WKU Football, follow @WKUFootball on Twitter and Instagram, and like the WKU Football Facebook page.