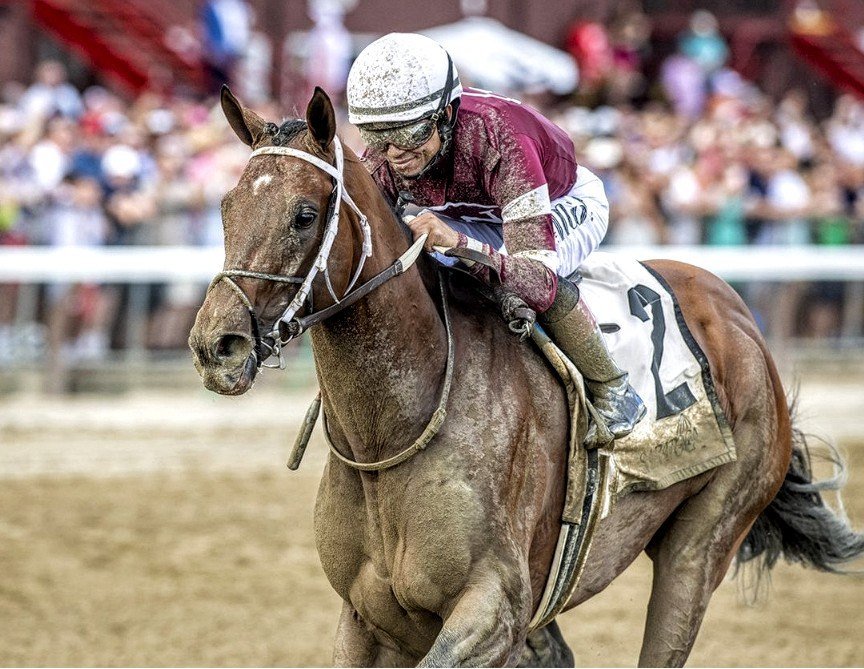 SPORTS VIEW AMERICA – Your Top Sports Team …
Content by LISA LAKE – ROEDEMEIER / photo credit Sarah Andrew – SPORTS VIEW AMERICA …
Please check us out on TWITTER, INSTAGRAM, & FACEBOOK …
Thousands of Sports Photos located at SVA PHOTOS …
Epicenter had to settle for second in both the Kentucky Derby and the Preakness. However, he powered by a small but talented field on Saturday to win the G2 Jim Dandy impressively. Preakness winner Early Voting jumped out to the lead with Zandon sitting just off of the pace in much closer fashion than usual. Tawny Port came out running third and Epicenter could see them all as they clicked off modest quarter, half, and six furlong fractions. Owner Ron Winchell admittedly was squirming in his seat by that time. However, jockey Joel Rosario had a plan and it worked! One of my dear friends says Rosario has a "tell" when he is sitting on a ton of horse and about to make a move to destroy the field. Apparently, it starts with subtle hand urging, and as the momentum increases he begins to nod his head. Lookout…he is about to trounce the front-runners!!!
Epicenter and I were born in the same small Kentucky city. And, although I grew up about twenty minutes south of there in the future home of Kentucky Downs, I lived in Bowling Green as a young adult and taught at the local university. That connection certainly makes him a rooting interest for me. However, I am also a fan of his raw talent. In my humble opinion, if he moves forward off this effort as a prep for the G1 Travers on August 27, he will be hard to handle. Brad Cox will likely run recent Haskell winner Cyberknife, who has done nothing but improve recently. And, there is a slim possibility Hall of Fame trainer Todd Pletcher will run his filly Nest. However, Todd Pletcher is as logical and practical as they come, so I expect to see her in the G1 Alabama where she should walk all over the field just as Jackie's Warrior did in the G1 Vanderbilt on Saturday. It was a sure thing and almost effortless. I expect the same from her if that is the decision. No such fate awaits her in the Travers. I do believe she would hit the board, though, and might be Epicenter's greatest competition. A filly has not won the Travers in more than a century!
Epicenter improved his record to five wins out of nine starts. The $260,000 September 2020 Keeneland purchase has proven lucrative for Winchell Thoroughbreds as Epicenter's total earnings are well over the $2,000,000 mark. By the stallion Not This Time out of the Candy Ride mare Silent Candy, this three-year-old star earned a 102 Beyer for his Jim Dandy victory. He covered the mile and an eighth distance in 1:48.99.
Hall of Fame Trainer Steve Asmussen had quite a weekend as he won the G1 Vanderbilt, the G2 Jim Dandy, and the G2 Amsterdam at Saratoga. Epicenter would give him his first win in the G1 Travers, often referred to as the Summer Derby. He finished a very close second last year with Midnight Bourbon.