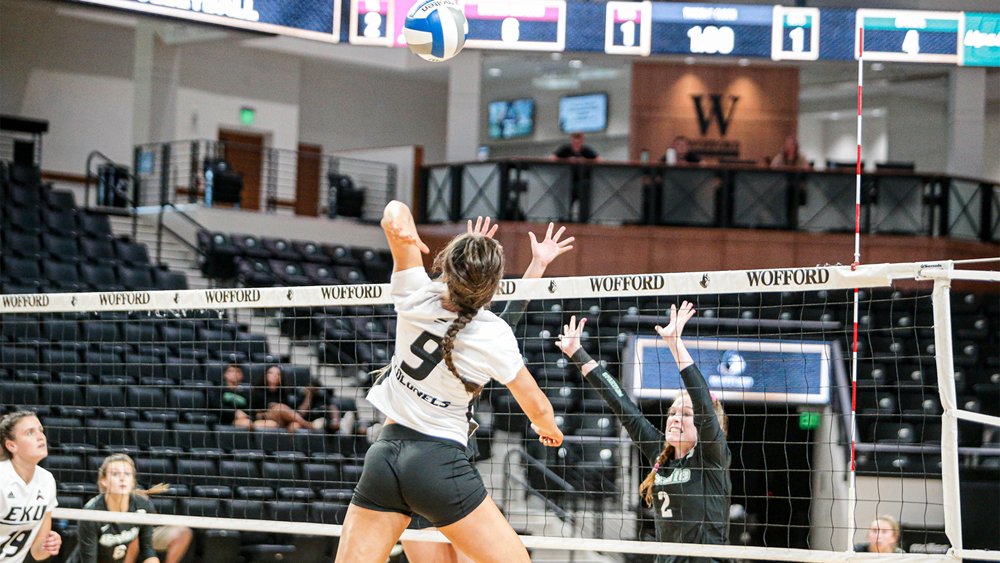 SPORTS VIEW AMERICA – Your Top Sports Team …
Content by EKU ATHLETICS – SPORTS VIEW AMERICA …
Please check us out on TWITTER, INSTAGRAM, & FACEBOOK …
Thousands of Sports Photos located at SVA PHOTOS …
ATLANTA, Ga. – Eastern Kentucky University's Molly Michalak was chosen as the ASUN Conference Player of the Week, and AG Vandagriff was picked as the ASUN Freshman of the Week, the league announced today from its Atlanta headquarters on Tuesday.
Michalak is EKU's first-ever ASUN Player of the Week winner. Vandagriff is the second Colonel to ever be chosen as the ASUN Freshman of the Week.
The duo helped Eastern Kentucky go 3-0 and win the Wofford Invitational over the weekend.
Michalak was chosen as the Wofford Invitational MVP and earned a spot on the Invitational All-Tournament Team after averaging 3.83 kills and 4.42 digs per set in those three matches. She recorded a double-double in each match. The junior had a match-high 17 kills to go along with 16 digs against Wofford. She finished with a match-best 17 kills, with 17 digs, against USC Upstate. The Grove City, Ohio native had a match-high 12 kills and led all players with 20 digs against Appalachian State.
Vandagriff was also picked to the Wofford Invitational All-Tournament Team. She averaged 2.08 kills per set while posting a .458 attack percentage. In three matches she had 25 kills in 48 attempts and made just three errors. The Athens, Georgia native had the match-winning kill in the fourth set against host Wofford. She posted a season-high 14 kills in the win over USC Upstate.
EKU will host Middle Tennessee on Wednesday. The match will begin at 6 p.m. ET and will air live on ESPN+. The Colonels will host the Geri Polvino Invitational, presented by the Dr. Geri Polvino, Russell, Josephine, and Mary Polvino Family Legacy Endowment, this coming weekend. There will be four matches on Friday and two on Saturday.