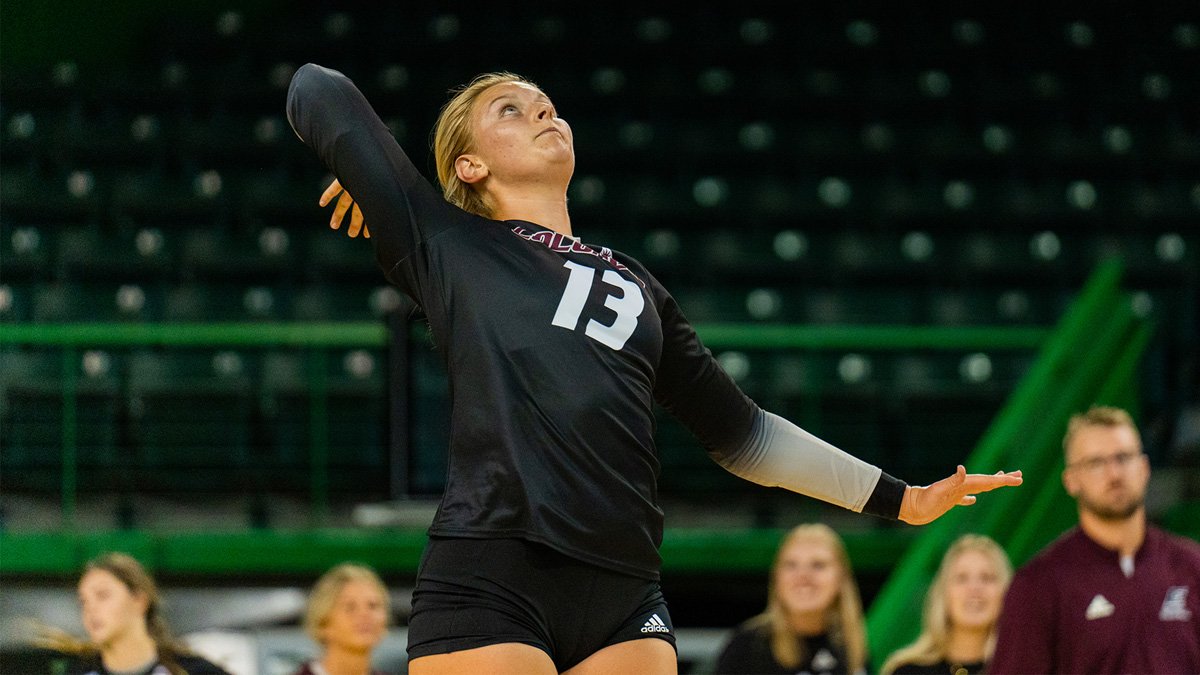 SPORTS VIEW AMERICA – Your Top Sports Team …
Content by EKU ATHLETICS – SPORTS VIEW AMERICA …
Please check us out on TWITTER, INSTAGRAM, & FACEBOOK …
Thousands of Sports Photos located at SVA PHOTOS …
JACKSONVILLE, Ala. – Eastern Kentucky University's volleyball team overcame a 2-1 deficit to force a fifth set, but Jacksonville State University won the decisive frame to escape with a 3-2 win on Friday in Jacksonville, Alabama.
JSU won by scores of 25-23, 20-25, 25-22, 19-25 and 15-9.
Molly Michalak and Sarah Mitchell led Eastern Kentucky (12-9, 3-4 ASUN) with 19 kills each. Mitchell made just two errors in 34 attempts for a .500 attack percentage. She also had 12 digs, four blocks and two aces. Katie McKune added 11 kills. Carson Ledford had five blocks. Chloe Mason recorded 24 assists and 20 digs.
Lena Kindermann led Jacksonville State (17-3, 5-2 ASUN) with 15 kills. Katie Montgomery had 12 kills, a .320 attack percentage and seven blocks.
EKU scored the first point of the first set, but Jax State scored the next four and seven of the next eight to go up five, 7-2. A kill from Courtney Glotzbach put the Gamecocks up six, 13-7. With JSU ahead by five, 16-11, the Colonels rolled off four straight to get back in it. Michalak finished it with back-to-back kills to make it 16-15. Another kill from Michalak tied the set at 23-23, however Jacksonville State scored the next two points to win the opener.
The Gamecocks broke a 5-5 tie in the second set with four unanswered. The Colonels came right back and tied it 10-10 on back-to-back aces from Kali Walker. Moments later, a JSU service error put EKU ahead 12-11 and the Colonels never trailed again in the set. An ace from Mitchell made it 17-12 in favor of the visitors. Mitchell gave Eastern Kentucky set-point with a kill and a Gamecock error on the next series ended the set, 25-20, and tied the match.
McKune's kill gave EKU an early 3-1 lead in the third set. Kindermann broke an 8-8 tie with a kill and JSU led the rest of the set. Blocks by Claire Ochs and Montgomery capped a 5-0 and extended the Gamecock lead to 19-12. Blocks from Ledford and Mitchell allowed the Colonels to close within two, 22-20, late but EKU never got any closer.
The Colonels scored the first six points of the fourth set and never looked back. Michalak's kill capped the run to start the set. Blocks by Maddy Campbell and McKune made it 10-2. The lead went to 10, 18-8, on a JSU service error. AG Vandagriff and Campbell ended the fourth and tied the match with a block.
Eastern Kentucky scored the first two points of the fifth, but Jacksonville State scored the next four and never trailed again. Blocks off of Sophie Riemersma and Montgomery made it 9-3. A kill from Zoe Gonzales ended it 15-9.
EKU had 10 more kills in the match, 64-54, and out-hit the Gamecocks .208 to .193. Both teams had seven aces. JSU held a 15-11 edge in blocks.
The Colonels will be back in action Saturday at Kennesaw State. The match is scheduled to start at 6 p.m. ET and will be shown on YouTube.