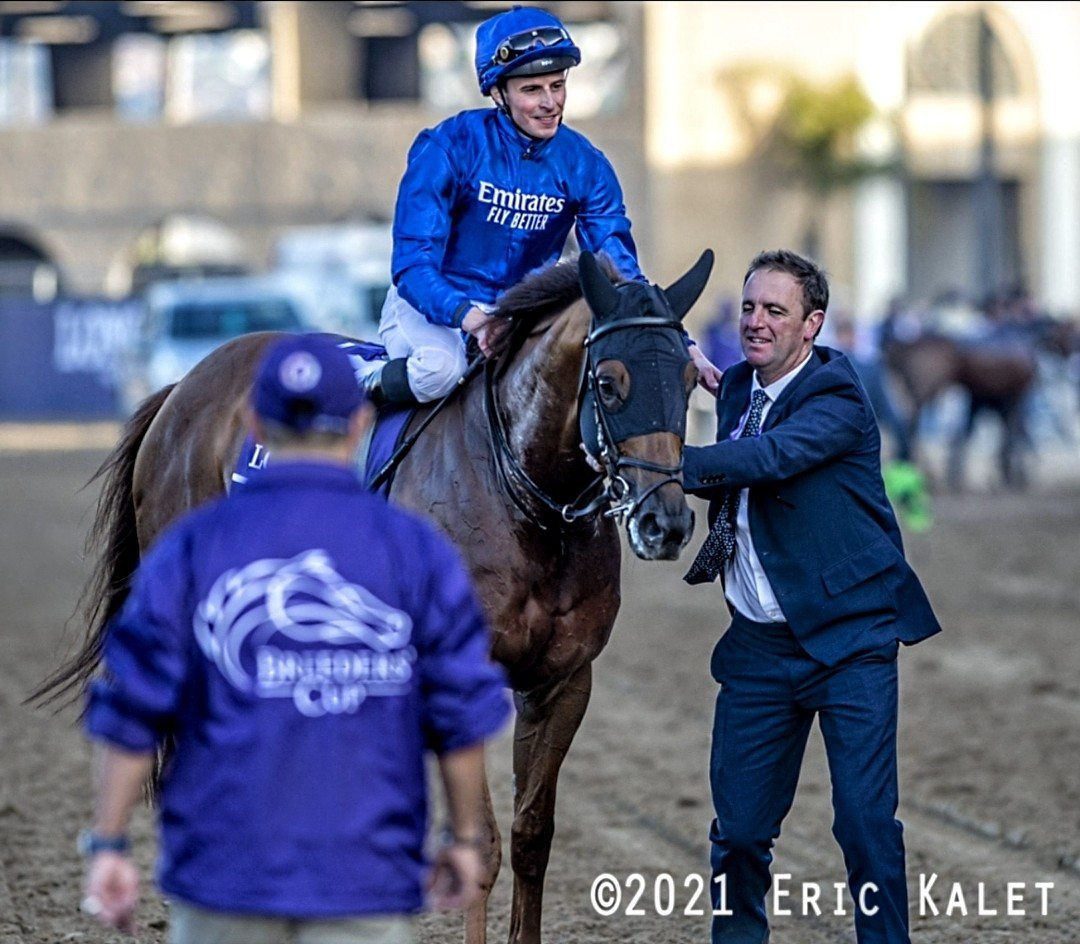 SPORTS VIEW AMERICA – Your Top Sports Source …
Content by LISA LAKE – ROEDEMEIER – SPORTS VIEW AMERICA …
Please check us out on TWITTER, INSTAGRAM, & FACEBOOK …
Thousands of Sports Photos located at SVA PHOTOS …
Forty-seven year old trainer Charlie Appleby has had more success in his nine years at the helm for Godolphin racing than many trainers experience in a lifetime. He has more than 600 wins under his belt and has won six of his eleven Breeders' Cup starts.
Appleby is a former jockey. He was head stable lad and then assistant trainer for Maktoum and Godolphin for 15 years before being named their trainer in 2013. Later that year he got his first Breeders' Cup win with Outstrip and has not looked back.
Last year, Appleby went 3-3 in the Breeders'Cup at Del Mar. He has multiple chances to enhance that record this year at Keeneland on the heels of being named Champion Trainer back in the UK. Appleby stables at Moulton Paddocks in Newmarket and winters in Dubai at Marmoon Stables.
The Godolphin/Appleby duo has a couple of real live shots in the Breeders' Cup Juvenile Turf on Friday and the Breeders' Cup Mile on Saturday . The Euros dominate the Juvenile Turf and his Silver Knott looks like the horse to beat. Appleby likes the draw of post position four for his horse and thinks he prefers a more firm surface that he hopes to get at Keeneland. Rain is in the forecast for Saturday, but Friday looks to be picture-perfect. Of course, it is Kentucky so anything is possible.
Modern Games goes out for the connections on Saturday in the Turf Mile as the 7-2 morning line favorite. And, I certainly would not dismiss Nations Pride or Rebel's Romance at 7-2 and 3-1, respectively, in the mile and a half Breeders' Cup Turf. The connections have seven entries over the two days of glorious racing. I feel sure they will add a win or two to their Breeders' Cup resume.
Breeders' Cup is like two days of Triple Crown racing. It's the very best horses in the world race after race. It is also the only time you get 8-1 or 12-1 on horses that would normally be the favorite on a typical racing day. Makes the adrenaline flow just to think about it. All that talent at one track…whew!
Best of luck to each of you who intend to wager a few dollars. I have had great years at Breeders' Cup and years that I literally hung my head in shame. If you have never attended this event and love horseracing, I highly recommend it.