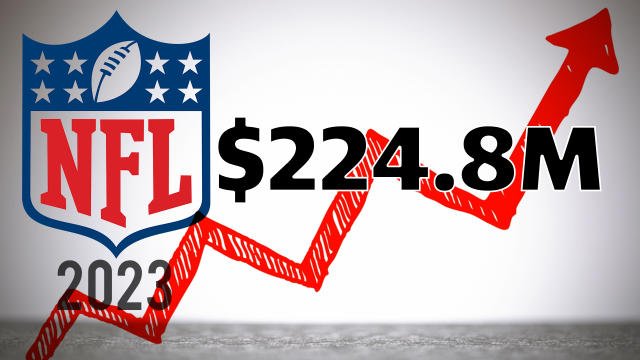 SPORTS VIEW AMERICA – Your Top Sports Source …
Content by – OVER THE CAP – SPORTS VIEW AMERICA …
Please check us out on TWITTER, INSTAGRAM, & FACEBOOK …
Thousands of Sports Photos located at SVA PHOTOS …
Earlier this week, the NFL revealed its 2023 salary cap. Teams can now budget for their offseasons, knowing a $224.8MM ceiling is in place. This year's nonexclusive franchise and transition tag numbers also emerged, giving teams more clarity on those fronts as well. With that in mind, here is where every team stands in terms of cap space:
Chicago Bears: $90.91MM
Atlanta Falcons: $56.42MM
New York Giants: $44.28MM
Houston Texans: $37.56MM
Cincinnati Bengals: $35.55MM
New England Patriots: $32.71MM
Seattle Seahawks: $31.04MM
Baltimore Ravens: $26.87MM
Las Vegas Raiders: $19.78MM
Arizona Cardinals: $14.47MM
Kansas City Chiefs: $13.96MM
Detroit Lions: $13.83MM
Indianapolis Colts: $12.59MM
Denver Broncos: $9.07MM
San Francisco 49ers: $8.28MM
Washington Commanders: $8.24MM
Philadelphia Eagles: $4.24MM
Pittsburgh Steelers: $1.03MM
New York Jets: $1.31MM over the cap
Dallas Cowboys: $7.18MM over
Carolina Panthers: $8.94MM over
Los Angeles Rams: $14.19MM over
Cleveland Browns: $14.64MM over
Miami Dolphins: $16.45MM over
Green Bay Packers: $16.48MM over
Buffalo Bills: $17.88MM over
Los Angeles Chargers: $20.38MM over
Jacksonville Jaguars: $22.35MM over
Minnesota Vikings: $23.43MM over
Tennessee Titans: $23.67MM over
Tampa Bay Buccaneers: $55.03MM over
New Orleans Saints: $60.47MM over
These figures (courtesy of OverTheCap) will change dramatically in the coming weeks, but this is where each team stands ahead of Super Bowl LVII. After that point, cap-casualty cuts can begin taking place. Restructures, extensions and trades will commence as well, with the Saints of recent years doing well to prove there are a few roads to cap compliance.