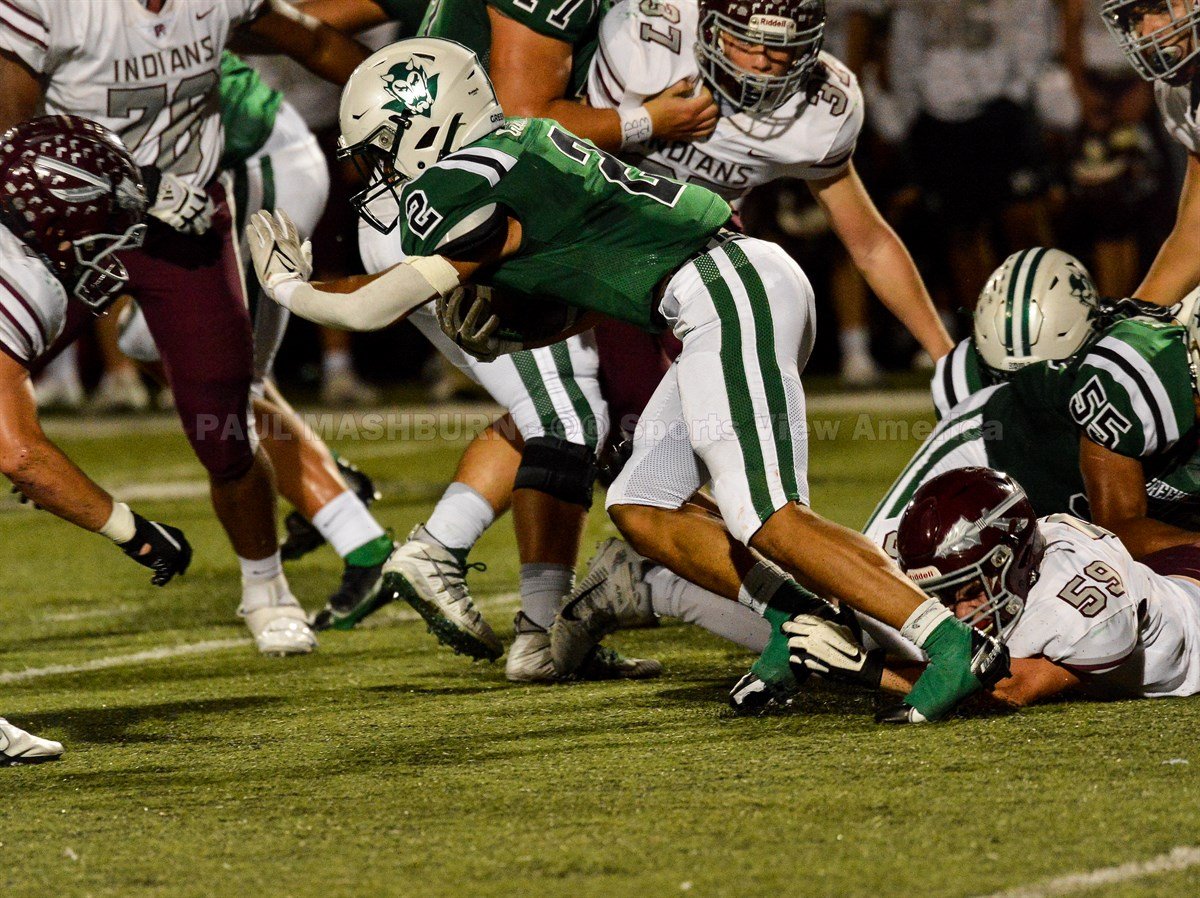 We ARE your Sports Leader & Source for High School Sports …
Content by RON HAMBLIN / Photo by Paul Mashburn – SPORTS VIEW AMERICA …
Please check us out on TWITTER .. Check us out on INSTAGRAM ..
LIKE & SHARE us on FACEBOOK …
Thousands of Sports Photos located at SVA PHOTOS …
The Greeneville Green Devils cruised to a 6-0 record with a huge win over the Dobyns-Bennett squad 35-7. The loss dropped the Indians to 5-1. The Green Devils would take a 14-0 lead to the locker room at halftime showing off their defense. The Indians came out in the 3rd quarter looking to make it a game and cut the score to 14-7. The Green Devils would quickly answer to make the score 21-7 after 3 quarters before putting the game away with 14 more points in the final quarter for a final score of 35-7.
Greeneville's Mason Gudger opened the scoring with a 37 Yd Rushing TD for a 7-0 lead. This was followed up by a Greeneville 47 Yd Rushing TD for a 14-0 lead at the half. The Indians cut in to the lead with Noah Blankenship hitting Jonavan Gillespie on a 23 yard completion for a touchdown to cut the lead to 14-7 midway through the 3rd quarter. Greeneville would quickly strike back with a 1 yard touchdown run. The 4th quarter was all Green Devils as Mason Gudger would hit paydirt with a 60 Yd Rushing touchdown for a 28-7 lead. The Green Devils Mason Gudger would score again with a 25 Yd Rushing touchdown to make it 35-7.
The Green Devils now 6-0 will take on the Seymour Eagles who sport a 5-1 record. The Dobyn – Bennett Indians (5-1) will host the 3-2 Jefferson County Patriots next Friday.