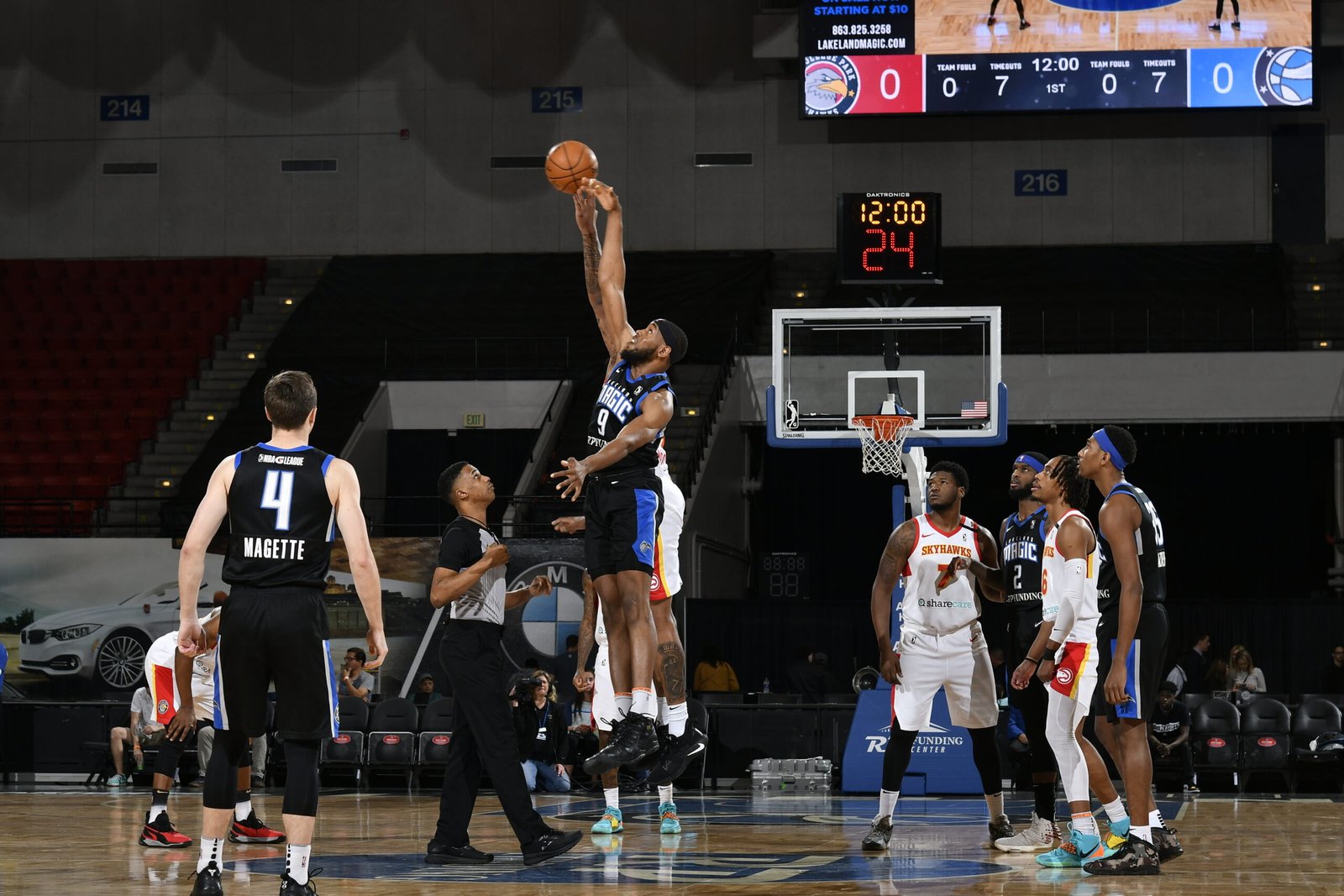 We ARE your Sports Leader & Source for Pro Sports …
Content by LAKELAND MAGIC – SPORTS VIEW AMERICA …
Please check us out on TWITTER .. Check us out on INSTAGRAM ..
LIKE & SHARE us on FACEBOOK …
Thousands of Sports Photos located at SVA PHOTOS …
VIDEO LINK: GAME HIGHLIGHTS
January 8 – The Lakeland Magic, NBA G League affiliate of the Orlando Magic, rallied from down 24 points to defeat the College Park Skyhawks 112-102 on the second night of a back-to-back at the RP Funding Center in Lakeland.
The Skyhawks got off to a hot start, outscoring the Magic 32-16 in the first quarter. Cat Barber continued his weekend of hot shooting and scored 14 first-half points to push the College Park lead to 24 points. Lakeland battled back in the third behind strong play from BJ Johnson and Jeremiah Tilmon to cut the deficit to just four points going into the final period.
Johnson took over in the fourth, going a perfect 4-4 from the field, included two clutch three-point shots to complete the Lakeland comeback. For the second night in a row, Johnson led the team in scoring with over 30 points. The Magic outscored the Skyhawks 67-43 in the second half to cap off the 24-point comeback and win by 10.
Johnson finished with a game-high 31 points and 8 rebounds. Hassani Gravett posted 19 points, four rebounds and five assists. Jeremiah Tilmon added 16 points, five rebounds and three assists.
Barber notched his second 30-point game in two nights, finishing with 30 points and six assists. Justin Tillman shot 10-15 from the field to contribute 24 points and seven rebounds. Jordan Sibert added 16 points and five rebounds.
The Magic take on the Capital City Go-Go on Tuesday, January 11 at the RP Funding Center. Fans across Central Florida can tune in to watch on Bally Sports Florida.
ABOUT THE LAKELAND MAGIC
The Lakeland Magic, based in Lakeland, FL, are the NBA G League affiliate of the Orlando Magic. One of 30 teams in the NBA G League, the Magic recently won the 2020-21 NBA G League Finals to finish as league champions. The 2021-22 season is underway at the RP Funding Center. Season tickets, group tickets and single-game tickets are available by calling 863-825-3263 or visiting LakelandMagic.com. Stay up to date on all things Lakeland Magic by following @LakelandMagic on Instagram, Facebook and Twitter.