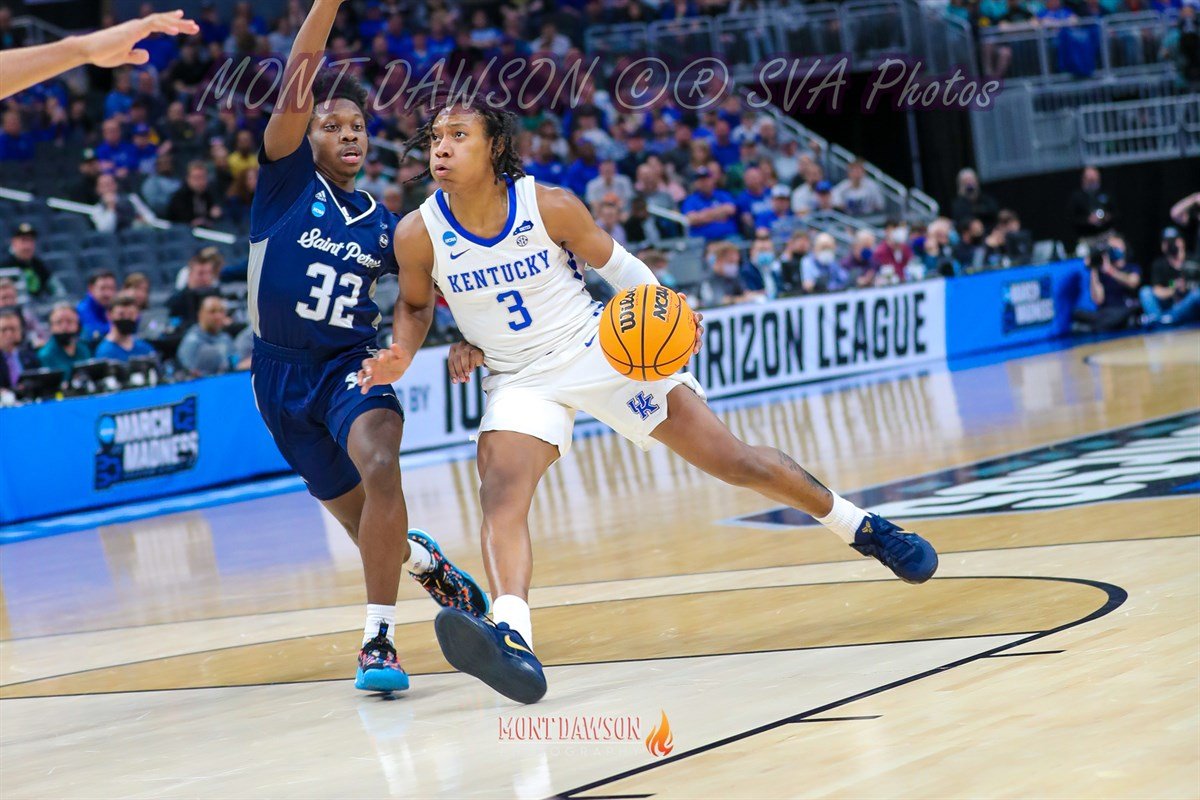 SPORTS VIEW AMERICA – Your Top Sports Team …
Content by RICKY BLAIR / Photos by MONT DAWSON – SPORTS VIEW AMERICA …
Please check us out on TWITTER, INSTAGRAM, & FACEBOOK …
Thousands of Sports Photos located at SVA PHOTOS …
Little St Peter's Take Down Mighty Kentucky 85-79 in NCAA Action
By Rick Blair
Indianapolis – Kentucky chokes on feathers as they lose to the Peacocks of St Peters 85-79 in overtime.
It is the first time ever that the Wildcats have lost in the first round of the NCAA tournament as a #2 seed. The Wildcats were tense through-out the game and finally succumbed to turnovers and missed shots. The smaller Peacocks were nine of seventeen from beyond the three-point arc for the game and made 18 of their 21 free-throws.
The Wildcats used the same starting lineup for tonight's game Sahvir Wheeler, Ty Ty Washington Jr., Keion Brooks Jr, Kellan Grady and Oscar Tshiebwe as they had in previous games, but it just never clicked for the Wildcats. Kentucky made 13 turnovers, most of which were unforced and the Cats were a pathetic four of fifteen from the three-point line. They also struggled from the free-throw line making only 23 of 35 from the charity stripe.
In an example of what was to come. Oscar Tshiebwe won the opening tip for Kentucky, but an errant pass went off Brooks hand for the Wildcat's first turnover. It was a bad omen.
St Peter's started the game nervous as well as they had a walk and moving screen on their first two possessions. Kentucky remained shaky in the early going as they missed two open three's and had a second mishandle by Brooks.
Finally, after two and half minutes of play Brooks made two free throws to break the ice and give the Wildcats a 2-0 lead.
St Peter's evened the score at two apiece when their guard Daryl Banks went back-door for a two-handed dunk. Next trip down court Sahvir Wheeler made a three-pointer to give the Wildcats a 5-2 advantage.
The Peacocks steadied themselves while the Wildcats were still struggling to find the basket and actually led 15-10 with 12:46 to go in the first half. During that run St Peter's was three for four from behind the three-point line.
Kentucky did rally to tie the game at 17-17, but St Peter's Doug Edert made a running jumper while being fouled, his made free-throw gave the Peacocks a 20-17 lead.
After missing his first two three-point shots, Kellan Grady started playing with a little more aggression and went to the free-throw line on three separate occasions, making five of six free-throws, he also made a lob pass to Jacob Toppin for a dunk on one of his other drives to the basket.
The Wildcats could not pull away from the Peacocks as St Peter's Daryl Banks was on fire, the 6-foot-3 guard was four for four from the three-point line and had a game high 16 points. The score was tied at 35 apiece with 3:01 to go in the half. Both teams traded baskets during the next three minutes and when the half ended it was #2 Kentucky tied with #15 St Peter's at 37-37.
Kentucky was really struggling in this game. They just could not get on track with missed layups, turnovers and a lot of other mistakes on defense that kept the undersized Peacocks in the battle. Five minutes into the second half and the Wildcats only led by two-points at 42-40.
The Wildcats were in a real dog fight. The pesky Peacocks continued to hang around as Kentucky was playing as poorly as they had all season and with 11:32 to go in the game the Cats were hanging onto a 49-46 lead.
St Peter's made a little run and went up 55-52, before Brooks converted a layup for the Wildcats, which was followed by a Wheeler jumper to give the Cats a one-point lead with 7:38 to go in the game.
Wheeler appeared to pull the Cats out of the fire, when he made a running layup to give the Wildcats a six-point advantage at 68-62 with four minutes to go in the game, but several mistakes and some big baskets by the Peacocks led to a 7-0 run and a St Peter's 69-68 lead. A three-pointer by Grady regained the lead for Kentucky at 71-69, but St Mary's Doug Ebert made a running layup that bounced around the rim before falling in to tie the game at 71 apiece. A contested missed last second shot by Ty Ty Washington sent the game into overtime.
Kentucky took a four-point lead early in overtime, but again mistakes gave St Peter's opportunities on which they capitalized. With only a minute left in overtime the Wildcats were trailing 79-76. Kentucky had one more opportunity, but when Brooks had his shot blocked and after an officials review determined the ball had gone off Brooks' hand out-of-bounds with :42 seconds left. Game was over. St Peter's made their free-throws down the stretch. Washington made a late three-pointer to cut the lead down to two at 81-79 with :22 seconds, but it was too little too late for the Wildcats.
Oscar Tsheibwe may have been Kentucky's only bright spot. Tsheibwe finished the game with 30 point and 16 rebounds. This may be the last time we see Tsheibwe in a Kentucky uniform, if it is, he did not disappoint with his effort in defeat.