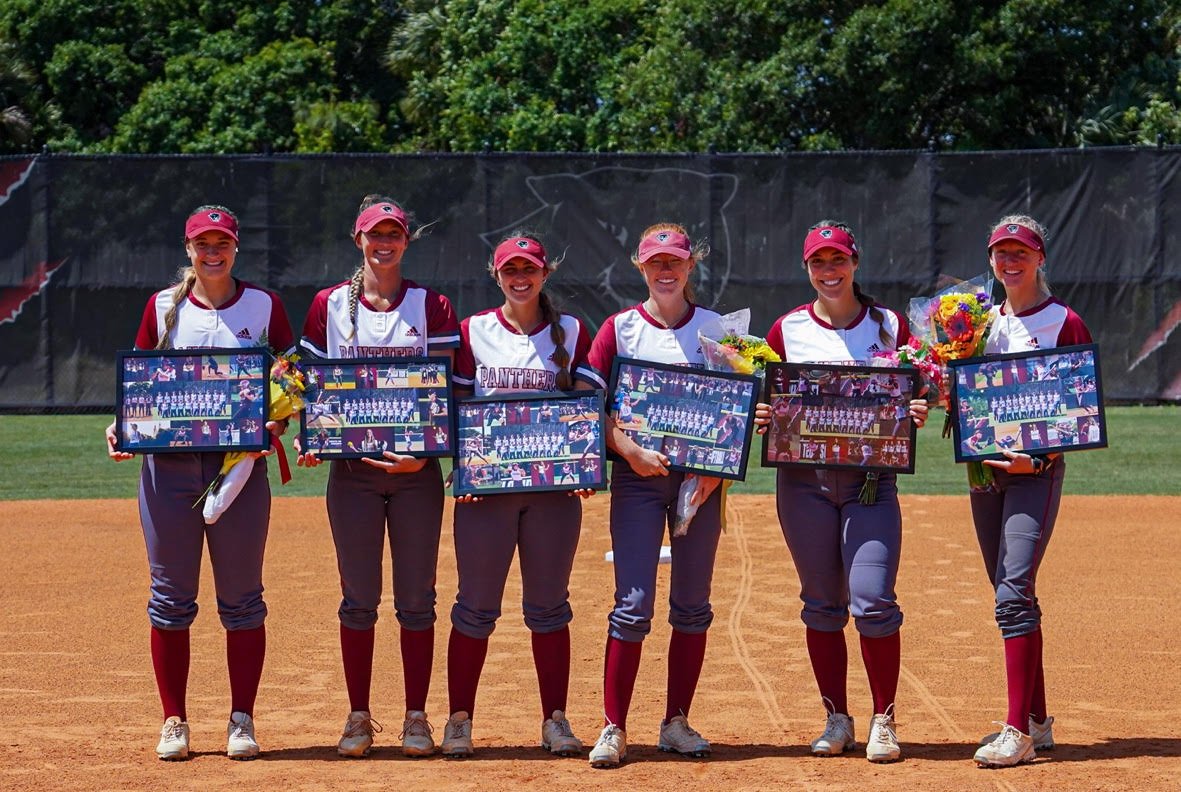 SPORTS VIEW AMERICA – Your Top Sports Team …
Content by FLORIDA TECH ATHLETICS – SPORTS VIEW AMERICA …
Please check us out on TWITTER, INSTAGRAM, & FACEBOOK …
Thousands of Sports Photos located at SVA PHOTOS …
INSIDE THE MATCHUP:
Game One Final: Florida Tech 3, Rollins 0
Game Two Final: Florida Tech 0, Rollins 8
Records: Florida Tech (32-20, 15-15 SSC) | Rollins (28-7, 9-5 SSC)
Location: Nancy Bottge Field | Melbourne, Fla.
STATS OF GAME ONE:
Teams remained in a scoreless tie for five and a half straight innings.
Panthers were able to create some action in the bottom of the six, scoring three runs.
Back-to-back hits by Cheyenne Nelson and Chloe French to lead off the sixth inning put the Panthers in scoring position.
Next at bat, Nelson was thrown out at home, but Whitney Ellis – pitch running for French – reached third.
A throwing error on the Rollins catcher, aiming to pick off Ellis, allowed for Ellis to reach home plate putting the Panthers on the board.
Victoria Szrom was caught stealing, freeing up Mikayla Lewin to steal home.
Jolie Miracle put run number three on the board with a homerun over the right field wall.
The Tars went three up, three down to end the game and secure the Panther win.
Alex Hendrian threw a three-hit complete game with four strikeouts to improve to 10-7 on the season. Hendrian retired 12 of the final 13 batters.
STATS OF GAME TWO:
It was a tale of two games as Rollins run ruled the Panthers in game two.
In the second inning, a RBI ground out and RBI single opened the scoring for the Tars.
Rollins plated one in both the fourth and fifth innings, both RBI singles.
In the top of the sixth, Tars plated four on a no out bases-loaded walk, a two-run single to center field, and a RBI single to right field.
The Panthers were retired in order in the bottom of the sixth to end the game and give Rollins the run-rule win.
Kelsie Rivers suffered the loss in the circle allowing three hits and two runs with no walks in two and one-third innings of work.
Samantha Guider threw three innings allowing 12 hits, six runs, and one walk on three strikeouts.
Allison Platon pitched two-thirds an inning allowing, no hits, no walks, and no runs.
BEYOND THE BOX SCORE:
The Panthers move to 58-56 all-time against the Rollins Tars.
Jolie Miracle's homerun in game one was her third of the season and third of her career.
Alex Hendrian's complete game in game one was her ninth of the season.
Hendrian's game one shutout was her fourth shutout of the season.
For the latest news, updates and information on the Florida Tech Softball, visit FloridaTechSports.com. Fans can also stay up-to-date on the latest Panthers news by following Florida Tech Athletics on Facebook, Twitter, Instagram and YouTube.