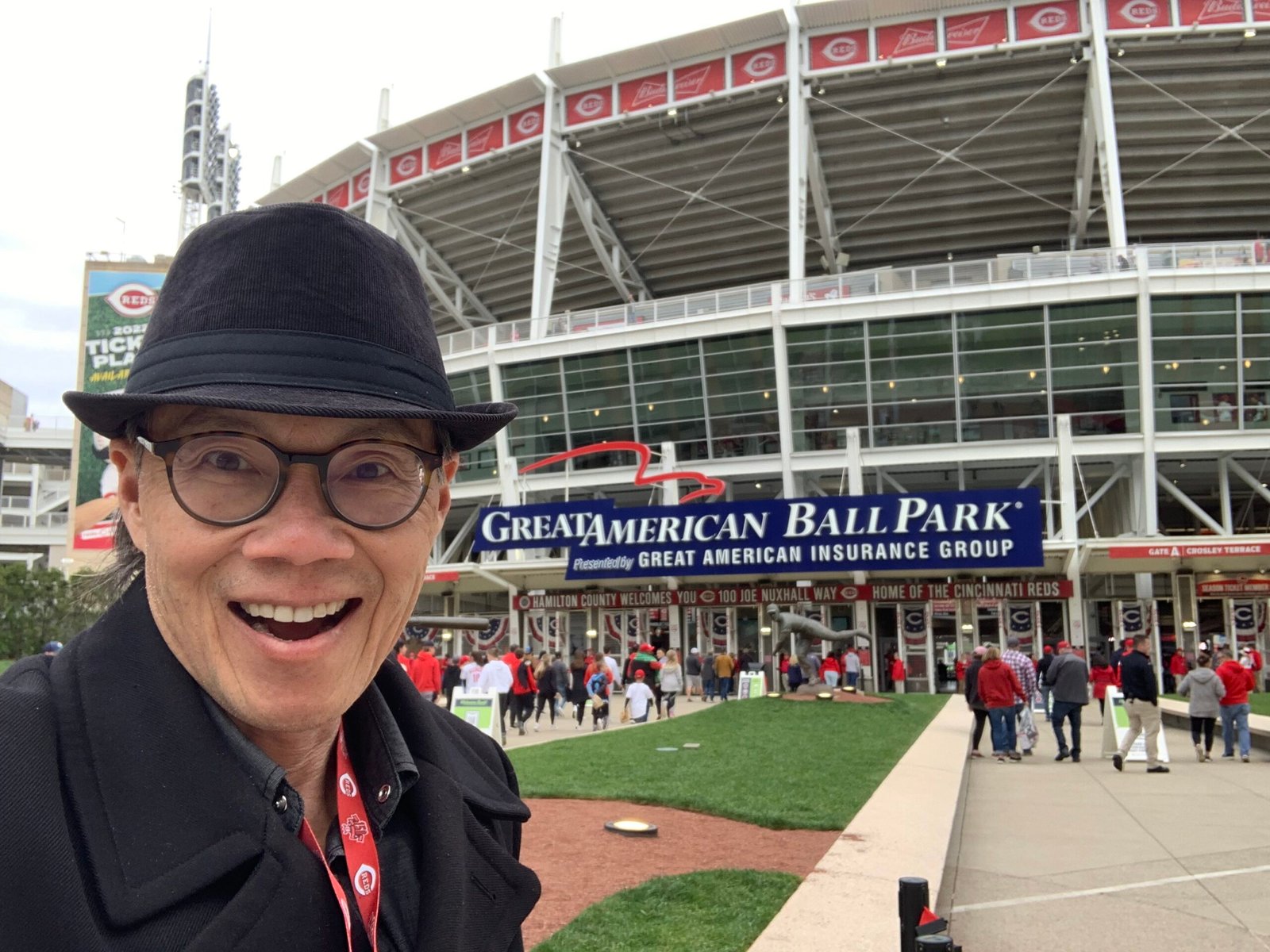 I'm already feeling a bit lonely at Great American Ballpark (photo Dr. John Huang).
REDS WIN, Reds Lose
By Dr. John Huang
(CINCINNATI, Oh.) – Like a hopeful ray of sunshine in a deadly storm of a season, the Pittsburgh Pirates tossed a temporary lifeline to a Cincinnati team in turmoil. Prior to Saturday, the hapless Reds had lost nine games in a row, 20 of their last 21 overall. David Bell's squad was returning home after a winless six-game road trip. Attendance was down, the natives were restless, and Reds President Phil Castellini's comments still reverberated among fans and media like stinking fish on the riverfront.
'Where are you going to go?'
Given the circumstances, the Reds had nowhere to go but up.
In the first game of the twin bill, Tyler Stephenson delivered a bases-loaded double down the right field line in the bottom of the eighth inning staking the Reds to a rare late-game lead. A couple of batters later, Tyler Naquin cleared the bases with a double of his own as the Reds defeated the Pirates 9 – 2 for their first victory in what seemed like forever.
"It felt good," Naquin said afterwards about the long-awaited victory. "Sometimes this game is ruthless. Actually, it's always pretty ruthless. We've been in a tough streak, and it's nice to get a win."
Connor Overton, pitching against his former teammates, held the Pirates at bay for most of the afternoon, giving up two runs on six hits with four strikeouts and zero walks in 5.1 innings worked. Lucas Sims (1 – 0) came on in relief, pitched himself into a bases-loaded jam, and then proceeded to strike out the side to finally record the elusive win.
"So many things happened—really just great baseball," said Reds manager David Bell when asked to describe his team's performance. "Defense, obviously the pitching, pitching at its most difficult time when your back's completely against the wall. What Lucas [Sims] did there to get out of that inning kind of demonstrated where we've been as a team and kind of showed a great example of what it's all about."
In the second game of the day/night doubleheader, the Reds went quickly back to their losing ways. Dauri Moreta (L, 0 – 1) lasted only a third of an inning after giving up a solo homerun to Bryan Reynolds. Phillip Diehl came on in relief but surrendered a two-run shot to Yoshi Tsutsugo and another solo homerun to Diego Castillo. Before you could say "Rich Strike wins the Kentucky Derby," the Pirates had struck it rich for a 4 – 0 lead.
Reds third baseman Brandon Drury smacked a three-run homer into the right center field bleachers in the bottom of the fourth, but it wasn't enough as the Pirates held on for an 8 – 5 win.
Normally, a doubleheader split at home against a sub .500 ball club is nothing to brag about. This year, however, any win is worth celebrating—especially with three of the Reds' starters still out of the lineup. Joey Votto remains day-to-day on the Covid IL, Jonathan India is still nursing his right hamstring with a return date yet to be determined, and Jake Fraley has been dealing with a sore knee for the past couple of weeks. A return to respectability depends heavily on this trio of starters getting healthy and leading the charge.
At 4 – 23, the Reds still own the worst record in baseball. As bad as they've been, it's a wonder any fans still show up at the ballpark at all. The attendance figures (9,267 for the afternoon and 21,448 for the nightcap) indicate that disgruntlement has settled in among the dwindling Cincinnati faithful.
The Reds' skipper didn't necessarily see it that way.
"I also wanted to mention today's crowd," Bell said, as if trying to encourage the masses. "It was such a nice crowd, and we're so appreciative of everyone there. They were all there just enjoying a baseball game. Very supportive. I just wanted to mention that. It means a lot to us as a team. I hope they enjoyed the game as much as we did having them there."
To be honest, it's already feeling quite lonely at Great American Ballpark, and it's only the first Saturday in May. With the team stinking up the joint and the weather still cold and dreary, who could blame the fans for spending their money elsewhere?
Dr. John Huang covers professional sports for Sports View America. He's also a columnist for Nolan Group Media and serves as editor-in-chief of JustTheCats.com. Check out his latest Kentucky Basketball book, KENTUCKY PASSION, at https://www.amazon.com/Kentucky-Passion-Wildcat-Wisdom-Inspiration/dp/1684351669 . If you enjoy his coverage, you can follow him on Twitter @KYHuangs.