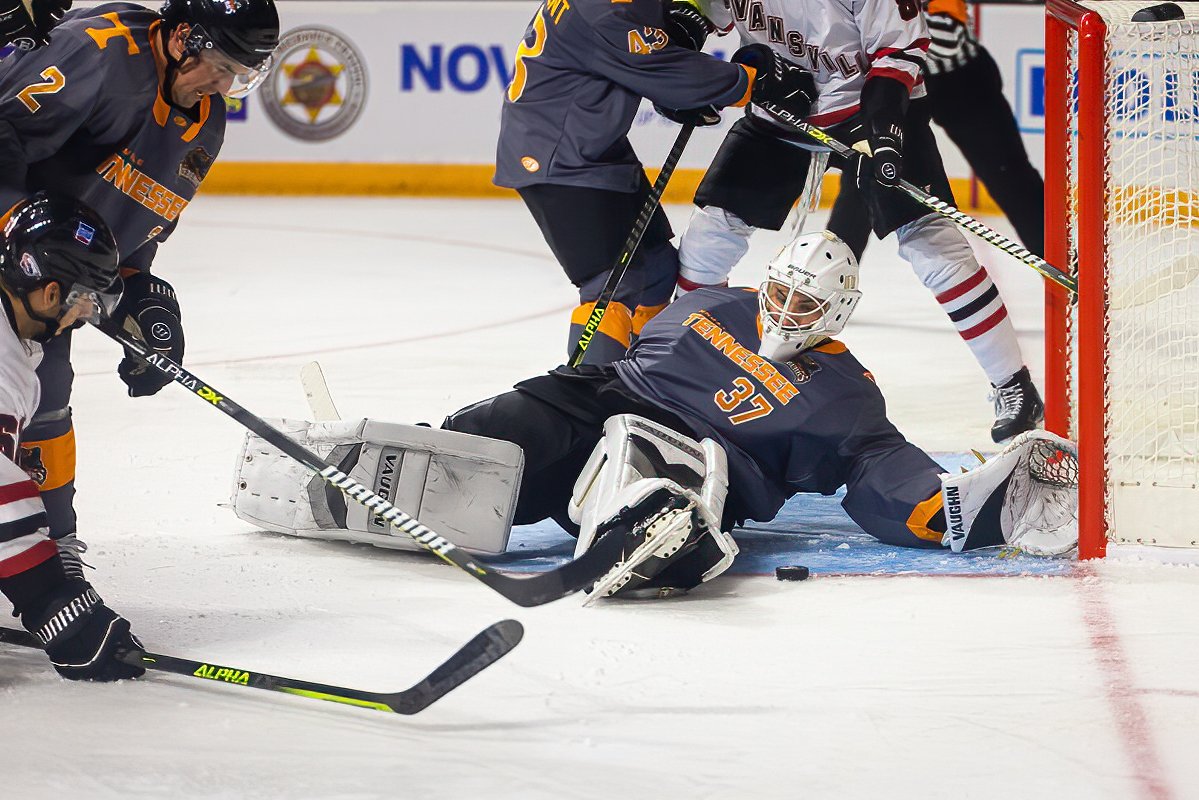 SPORTS VIEW AMERICA – Your Top Sports Source …
Content by KNOXVILLE ICE BEARS – SPORTS VIEW AMERICA …
Please check us out on TWITTER, INSTAGRAM, & FACEBOOK …
Thousands of Sports Photos located at SVA PHOTOS …
Kristian Stead made 60 saves, Andrew Bellant scored a hat-trick and the Knoxville Ice Bears overcame a 61-21 shots on goal deficit to beat the Birmingham Bulls 4-1 Saturday night at the Pelham Civic Complex.
Justin MacDonald also scored for Knoxville, which has won two straight. Mike Davis scored the lone goal for the Bulls and Austin Lotz made 17 saves. Birmingham has lost two straight.
Bellant opened the scoring early with a rebound past Lotz at 1:59 of the first. Kyler Matthews' shot from the point bounced of Lotz's right pad and Bellant cleaned up the rebound for his first goal of the season. The goal was setup by a kick save by Stead after a cross-ice pass in the Knoxville zone.
After Davis tied the game early in the second, the Ice Bears withstood a flurry of shots in the defensive end before Dino Balsamo fed a saucer pass to Bellant, who tapped it in past Lotz to make it 2-1 at 15:15 of the second.
With Birmingham on the power play, Stead stonewalled Davis on a breakaway with a glove save to keep Knoxville in front. The Ice Bears killed off all eight Birmingham power plays, including a pair of 5-on-3 opportunities for the Bulls.
MacDonald carried the puck through the neutral zone, banked it off the wall back to himself in front of the crease and beat Lotz to give the Ice Bears a 3-1 lead at 11:13 of the third. Bellant scored on an empty-net to cap off the hat-trick.
The Ice Bears return home to host Macon on Friday. Birmingham will remain home and face Huntsville on Friday night.
ABOUT The Knoxville Ice Bears: The Knoxville Ice Bears organization began in 2002 and was an inaugural charter member of the Southern Professional Hockey League (SPHL) in 2004. As four-time SPHL Champions and five-time regular season champions, the Ice Bears are an experienced and established organization, offering the city and its visitors a balanced product of highlight-reel hockey, unique and exciting intermission activity and endless fan interaction, presenting the most affordable, family-friendly way to enjoy sports and entertainment. Season, Partial Season and Flex Tickets are now on sale. For more information, visit www.knoxvilleicebears.com or call (865) 525-7825.