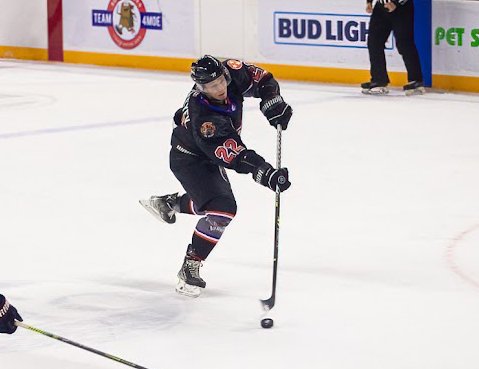 SPORTS VIEW AMERICA – Your Top Sports Team …
Content by Knoxville IceBears – SPORTS VIEW AMERICA …
Please check us out on TWITTER, INSTAGRAM, & FACEBOOK …
Thousands of Sports Photos located at SVA PHOTOS …
Stepan Timofeyev scored in the overtime period and the Knoxville Ice Bears set an SPHL record with their 42nd win of the regular season with a 2-1 comeback victory over the Evansville Thunderbolts Saturday night.
The Ice Bears (42-10-4) will enter the playoffs having won ten of their past 11 regular season games. The Thunderbolts (28-26-2) will be the No. 7 seed and will face the Huntsville Havoc in the first round of the playoffs.
Jason Price kept in a clearing attempt in the Evansville zone at the blue line. He fired a slap shot from the high slot, but his stick broke. The puck bounced off of an Evansville skate and slid to Dino Balsamo in the right circle. Balsamo crossed the puck over to Timofeyev in the left circle and his one-timer beat Chris Janzen for Knoxville's record-setting win.
After Kristian Stead blocked the puck at the front of the crease, Brady Fleurent tried to clear the puck away from the blue ice, but his breakout attempt bounced off of Connor Chatham and into the net behind Stead early in the third period.
Fleurent made up for the misfortune when he tied the game on the power play with just over two minutes remaining. Balsamo fed the puck to Price in the slot from the right circle. Price tapped it in front to Fleurent, who maneuvered around Janzen to get Knoxville on the board.
Janzen finished with 38 saves for the Thunderbolts. Stead made 17 saves to pick up his 18th win of the season.
Knoxville will host Roanoke on Wednesday night to open the first round of the President's Cup Playoffs. Tickets are available at www.knoxvilleicebears.com.
ABOUT The Knoxville Ice Bears: The Knoxville Ice Bears organization began in 2002 and was an inaugural charter member of the Southern Professional Hockey League (SPHL) in 2004. As four-time SPHL Champions, the Ice Bears are an experienced and established organization, offering the city and its' visitors a balanced product of highlight-reel hockey, unique and exciting intermission activity and endless fan interaction, presenting the most affordable, family-friendly way to enjoy sports and entertainment. Season, Partial Season and Flex Tickets are now on sale. For more information, visit www.knoxvilleicebears.com or call (865) 525-7825.